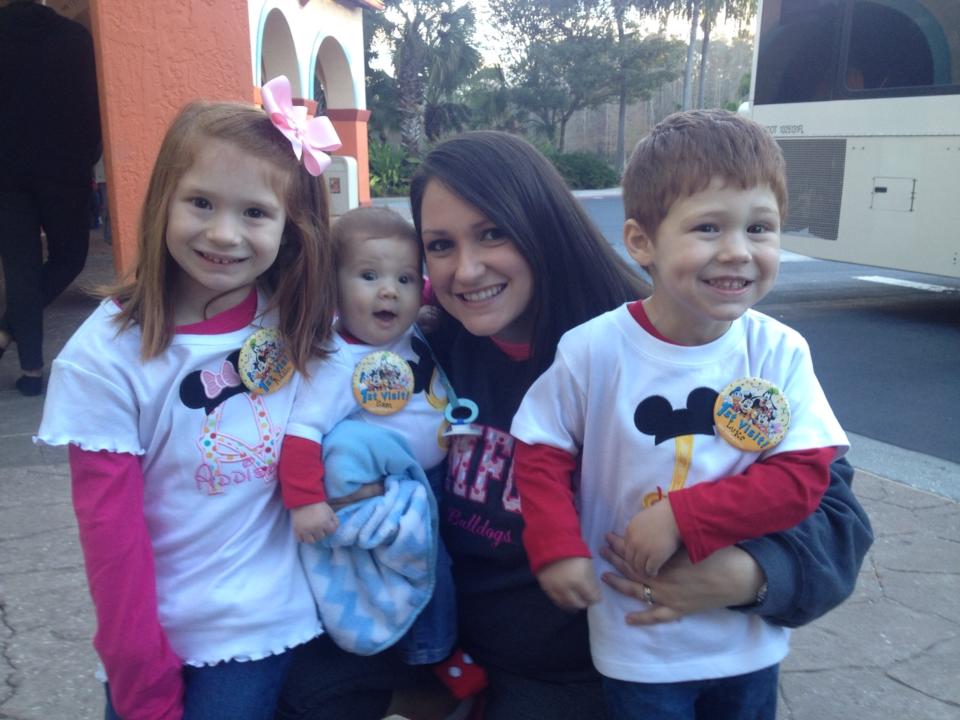 19 Jan

Top 10 Memories from our First Disney Vacation

I am a huge fan of the "On This Day" app for Facebook. It's great to go back in time and see the posts, pictures and, in election years, the political propaganda, that brings back smiles and memories. It also helps you remember milestones and that is what brought me the idea for today's post.

Welcome to Believe Vacation's Weekly Top Ten where today, I'll take a trip down memory lane and reflect on a trip I took to Disney that was my first time taking my wife and kids. In this post, I'll provide some humorous stories but will use that as a guide for first-time dads and moms who have a ton of questions with regards to a magical vacation with their kids. So let's go back 4 years ago, fire up the "On This Day" app and start with…
10) Driving through night – I am fortunate to live in Alabama, a state that borders Florida. But let's be honest, we're nowhere close to Disney. 10-12 hours in a car is still a long time. At that time, we had a 5 year old, a 3 year old and a 6 month old. We knew it'd be a special trip, especially being our first. We decided to leave at night and rely on nature to force our kids to sleep in the car while we drove with limited hunger pangs and pee breaks. We mistimed our drive and actually made good time. We got in at 3 am! Obviously, nothing is open and our room wouldn't be ready for another 12 hours. But Corky at the front desk made some arrangements and allowed us to check in without charging us for the night. Customer service at it's best!
Advice – Fly if you can afford it because it'll also provide you the chance to ride the Magical Express. Driving is not the worst but I definitely recommend the overnight deal provided you have a driver who can pull off the feat. Obviously, do no expect to get your room as early as we did but do expect the Cast Members to go out of their way more times than not. All it takes is the courage to ask them and a smile.
9) Staying at Coronado Springs – The resort of choice was Coronado Springs. Admittedly, the trip was part of a work conference for my wife but we tied in a family vacation with it. We may not have chosen Coronado on our own but the conference was there and man, was it an amazing set up. Our kids enjoyed the grounds and we learned the first day that regardless of value, moderate or deluxe resort level, there will be some Disney things they can amuse themselves with. It was January so we didn't swim. But we enjoyed the lake on the property and the Spanish decor. The gift shop is pretty good too and that's always a plus!
Advice – You want to find what resort works best for your family but do not limit it to price. For a few hundred dollars more, you may get a bigger room, one less drop off station on the bus route, a few hundred steps less to the food court, the spa your wife wants to visit, a resort with a pool AND a cool slide, etc. Let our agents help do your research and look at the overall theme just as much as the total dollar amount.
8) Transportation everywhere you look – Once we left our Yukon in the parking lot, all other modes of transportation were rides to my kids. The buses to the parks – "That was a great ride!" The boat ride to Wilderness Lodge – "That ride was awesome!" The Monorail – "BEST RIDE EVER!" We even got to the point where my daughter giggled every time she heard "por favor mantengase alejado de las puertas!"
Advice – Part of the Disney experience is the transportation. Starting at Orlando International and boarding the Magical Express, leaving your car and not having to drive everywhere is nice. It comes in handy on those rides back to the resort mid-day or at the end of the day and you try to shut your eyes for a few moments. Use your car or take an Uber if you truly are on a schedule but whenever you can, use the Disney-provided vehicles and make it an extra adventure with the family.
7) Using Strollers for naps…if you can find it! – Speaking of transportation, if you have children of any age, I recommend a stroller. We brought both our double stroller and baby stroller and had them in our room every night. We loaded it with snacks but more importantly, got it prepared for the midday naps. Without fail, our children would want to go to sleep but not leave the park, so they crashed in the stroller. When they were tired of walking, we pushed them from attraction to attraction and even had a bag clip to hold our bags. Strollers are a must! But we were never told that if you parked it, a Cast Member may move it to make room for traffic flow. Eventually we got smart and decorated it up a little so that if it was not in the same spot, we'd look for our decorations. That saved a ton of time!
Advice – Children will get hot from the sun and tired of walking. Whether you bring your own or rent, have one at Disney. Have a decorating party the first day you are there and use ribbon, bows, lights, anything to stand out. Make sure you always clear it out at night so that you can load it with snacks and purchased goodies throughout the day. Let kids take naps in the strollers one at a time so the other ones can do their own things with either Mom or Dad. Just learn how to fold them up as quickly as possible or else the people on the bus will give you the look.
6) Classic attractions and new experiences – Like anyone else, I have my favorite attractions that I wanted my kids to experience. It backfired. My daughter cried on Haunted Mansion and did not forgive me until she rode it again 3 days later. Heffalumps and Woozles were called "Weezles." My son said his favorite ride at the Magic Kingdom was "Thomas the Train." You just never know what your kids will enjoy so you have to almost try it all. But adults should try new experiences as well. Without advice from some great friends, we never would have known about the Flag Retreat. Now, it's a tradition that we do and a great reminder that men and women sacrificed so that I could do something as silly as take my family on vacation.
Advice – God Bless YouTube!  One way to prepare your kids for what they may experience is to watch the attractions online. Show them what it looks like and what the attraction does. Let them have an idea of what to expect going into it. No sense waiting an hour for something they'll hate. Also, ask your friends and your Believe Vacations travel agent what they enjoyed with their kids. We'll give you honest answers!
5) Girl AND Boys loved Princesses – One of the honest answers I'll give is, your male children will enjoy princesses. We knew my daughter would because she knows their names and sings their songs. We did not expect the 3 year old boy to pose for photos and give hugs the way he did. It didn't matter if it was Belle, Ariel, Merida, Alice or even Doc McStuffins, our children loved any person that was a Disney Character and we are thankful we purchased the Memory Maker to prove it.
Advice – If you have boys and you get a Little Mermaid Room at the Art of Animation Resort, a table reservation for Cinderella's Royal Table and FastPass Enchanted Tales with Belle, they'll be fine. More than fine! They'll be princes. And they'll have a great time and plenty of memories to take home. Regardless of gender, experience what your kids choose and then allow them opportunities to be a prince/princess or a Jedi!
4) "Daddy, we're hungry!" – Well one thing is for sure, kids are going to want to eat! We did not do the Disney Dining Plan that trip because at the time, our kids were very particular with food and snacks. We looked into a local delivery service that also provided diapers and baby formula so we saved room in our suitcases by not packing those. Still, we made our reservations to table meals as close to 180 days out from our arrival date as possible. We selected T-Rex in Disney Springs on arrival day. What an awesome start to Disney Dining, especially once the meteor showers started up! We also enjoyed Pecos Bill's in the Magic Kingdom, Akershus at Epcot, Chef Mickey's at the Contemporary Resort and the Pepper Market at Coronado Springs Resort. Now, the receipts may be pricey, especially the character meals. But look at the photo above of those carnivores. Tell me you would pay the same for a similar picture of your child!
Advice – We have since relied on the Disney Dining Plan for our Disney Vacation Package. For us, it's comforting to know that snacks and meals are already "purchased" and we should not have to spend any more out of pocket. If your family eats a lot, look at the many options for meals and snack credits. If you are light eaters, you may be better ordering from a local store and snacking every day out of pocket. There is no right or wrong answer. Again, our agents will provide the best advice we can.
3) Pickles and Powdered Waffles – If you know our family, pickles are a must! We eat them all the time. While Disney may have more of your typical carnival foods like popcorn, ice cream and candies, we never imagined we'd find a place that sold pickles at Disney. Wouldn't you know, a little, oft-overlooked farmer's market stand in Liberty Square had them! My children said it was the best pickle ever! We also love our desserts. And of course, Mickey Ice Cream Bars were the most requested item but we discovered Sleepy Hollow at the Magic Kingdom. And I had a powdered waffle. And that turned into almost one a day! Oh, and I forgot about the Dole Whips!
Advice – The official Disney website has menus for every single food establishment on its properties. This will help you determine where to eat, what to get, what desserts you may want to try, etc. This also helps those with food allergies as you can research ahead of time and know which locations have what for that particular family member. Also, if you find yourself looking for which snack counter may have a particular morsel, ask. Let Cast Members impress you by knowing that an obscure food stand actually has pickles!
2) Autographs and extra magic – Attractions and food not enough? How about meeting your favorite characters!  Going into our first trip, we knew we wanted photos of the kids with their favorites, but we were not wanting to spend money on a book. So we got creative: We brought a Disney Princess pillowcase for my daughter and bought a pair of Mickey gloves for the boys. 40 autographs later and every inch of those items are covered, especially when Donald's signature takes up the whole palm of one glove (Crazy Donald!).
Speaking of saving money, you might have noticed Disney is a for-profit company. Some of those profits come from things that light up at night for parades and fireworks. Our simple solution was hit up the dollar store before the trip and purchase cheap glowing items. Since we had a few leftover, we would find parents who had children and offered some to them. Well let's just say we made their vacation! Always cool to provide "extra magic."
Advice – Look at Pinterest and other sites for hacks regarding autographs and saving money. You'll feel the hit when you purchase three $25-30 gizmos, believe me. And always look for ways to share the good vibes at Disney Parks with others. Offer to buy a coke, compliment a young princess on her outfit, high five the child next to you if they get separated from their folks on a roller coaster and more. Keep it the "Happiest Place on Earth" by doing your part!
1) Escalators are the best rides and the kids' favorite characters are the real ducks – You can plan all you want and try to capture the moment the children ride their first roller coaster or meet their favorite character. But especially at Disney, you'll be surprised and reminded they are still simple children who appreciate what grown-ups often neglect – the little things. We get so burnt out on cynicism and opinions in today's society that we forget to see the blessings. During this trip, while my mind was thinking "get your money's worth," my kids were thinking "A REAL DUCK!!! Let's chase it!" Or they were riding the escalators saying they went on the big ride at Disney. So if anything else, a Disney vacation like ours will in fact make you slow down and really consider what's important. For me that week, it was the smiles on the faces of my wife and kids. Yes, the photos and memories are still there but the deeper appreciation for the little things was the extra magic we got that weekend.
Advice – Let us plan a schedule for you and book the restaurants, resorts, rides and recreation. But let your family and the magic of Disney supply the rest!
Did anything I mention bring up great memories from your first trip with your family? Leave your comments in the section below and remember, there's a great, big, beautiful tomorrow!