As we have shown you in past articles and interviews, it is 100% acceptable to do Disney as an adult and not bring your children.  You experience new adventures, create wonderful memories and still have a little one or little ones to return to when you get home.  But what if your child goes with you to Disney and you still want to experience it as an adult?  Obviously, you can't just leave your child in the room or to play in the neighboring room at the resort.  Luckily for many people, there is a wonderful solution available…
Welcome to Believe Vacations' Weekly Post where today, we are going to introduce you to a concept known as Kid's Nite Out (KidsNiteOut.com). Meet Kira Ashline.  Kira joined our team shortly before the pandemic and has an adorable 2-year old son.  The two of them went down to Disney earlier this summer and while they had time in the parks together, they each had their own "me" time.  Kira used the Kid's Nite Out program to provide babysitter services for her son while she and friends explored the adult side of Disney.  Was it worth it?  Kira was kind enough to sit down and answer a few questions about the overall experience:
The Basics
What exactly is Kids Nite Out? It's a contracted babysitting service through Disney that I happened to find out online.  I wanted to see if it was even active with COVID and I sent an email.  They were quick to respond and told me how to sign up.  They can come to your room, go anywhere in the parks, offer themselves as "helpers" in the parks, etc.  My experience was fantastic and I absolutely loved it.
What are the fees to use the service? They are listed online but there are additional fees if you have more than one child or if you need services during the holidays or the marathons.  Like, 3AM coverage during the marathons.  You can book an overnight sitter as well.
The Sitter
How was the experience with your sitter? I used her twice.  I was on a 7-day trip and we used her for both nights.  Getting my 2-year-old to like a new person on vacation was a worry for me and I was still unsure until she showed up at the door.  She was great! She had a teaching background and while they mostly stayed in the room, they went to dinner on their own.  I got back at 9pm the first night but the second night I stayed out later and both times, she got him to bed.  She kept sending me messages to let me know how he was doing.  Just a great experience from start to finish.
How does the sitter get into the room if they go out? I gave her an extra card and let the front desk know as well should there be an emergency and she get locked out.
Does the company send you any prior information about the sitter? They did not assign anyone until we checked in.  You provide information about the reservation and your credit card to be stored on file.  They sent her name and that was it!  I had no idea what age I would get but they are all over 18 years of age.  They can and may bring activities if a guest makes that request.
The Child's Experience
Are there any limitations where they can go together? They can go in the parks but you have to buy them a ticket.  They can go anywhere on property but they can not use their own cars.
Do you pack anything special to give to the sitter? You do have to purchase their food and I did mobile order for them both nights through the app.  They take into consideration any medications or allergies, will assist with diapers, formula, pajamas, whatever is needed to keep it normal.
How often did you check in? Night one was about four times in 5.5 hours.  Night two was only twice because we stayed out later.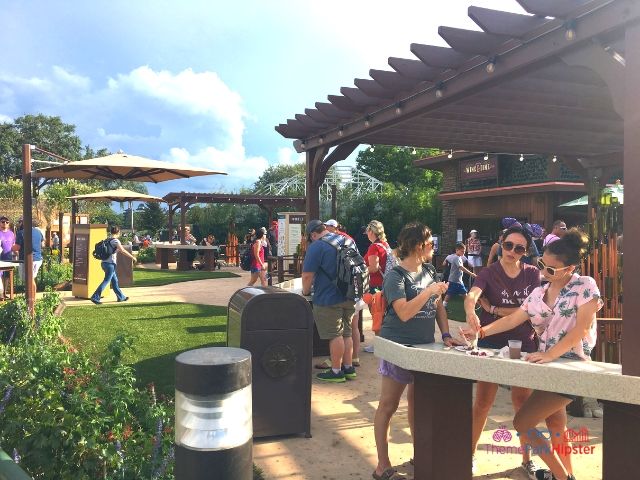 The Adult's Experience
Where did Mom go while the kids are with a babysitter? EPCOT is my favorite and my best friend is an EPCOT fan too so we did our normal EPCOT thing prior to kids.  Ate and drank around the world, enjoyed Spaceship Earth, etc.  It was the park closer to my son just in case.  But on the second night, we went to Disney Springs.
Where should adults go and should you only enjoy the "adult side" of Disney? I'm a total princess and Disney is my playground.  I did go to Disney as an adult, it's just that I have a kid now.  The rides were fun but please relax.  You will not be able to get to everything but take it all in stride and simply enjoy the parks.
What is something you experienced through a different lens as an adult? I appreciated Dinoland more this time with my dino-loving kid!  As run down as it can look sometimes, I enjoyed experiencing it all with him.  Even the gift shop had dinosaurs all over the ceiling and walls and he yelled at every one of those.  I never experienced Disney as a kid, just always as an adult.  In trying to get everything done all at once, I missed out on so much.  I told myself to slow down and really take in all the details.  Especially at EPCOT with all the countries.  I love the little details.
Final Advice
If you had one final piece of advice to give about Kids Nite Out, what would it be?
TAKE THE NIGHT OFF and DON'T FEEL GUILTY!  It's worth the money and worth the time in return.  I felt the Mom guilt and thankfully had my best friend encouraging me. Use it as a date night or more of the adult opportunities Disney can offer.  You'll never regret it!