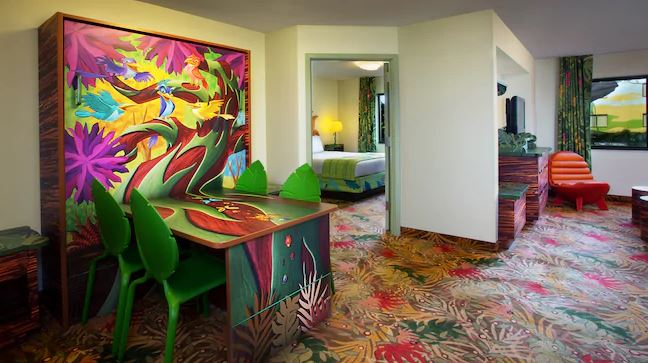 30 Mar

Bang for your Buck Resorts

When you stay on the campus of Walt Disney World, you want to make sure that you are getting every single penny's worth.  You are looking for great deals on food, tickets, and of course, rooms.  Basically, you're looking for which resorts will give you the best accommodations for your needs at the most affordable and reasonable price.  And lucky for you, our agents have considered this for your benefit.

Welcome to Believe Vacations' weekly post where we continue our search to find the BEST RESORT AT DISNEY.  Today, we are going to reveal the results of our agents voting which resort had the best "bang for your buck."  For this list, we considered everything a resort had to offer including room size, amenities, pools, entertainment, distance to the parks, food, and a variety of other factors and then compared it with the actual offering rates for a room.  And as a bonus for your consideration, we are including the standard nightly rate for a 2 adult, 2 child 7 day/6 night stay in June at the resort.  From there, we have our list.

Disney's All-Star Movies Resort $165.50 per night – 2 double beds and a bathroom.  Much like a traditional hotel room, it's simply a place to drop off your luggage so you can maximize your time in the parks.  Similar to our next two entries, this one places lower than them due to the $15/night difference.

Disney's All-Star Music Resort/Disney's All-Star Sports Resort – $150.67 per night – 2 double beds and a bathroom.  Once again, the traditional hotel layout you may be accustomed to on any out-of-town visit.  Music and Sports still achieve that "Disney feel" be it with characters in sports gear on the shower curtain or paintings of Mickey leading an orchestra in your room.  Like Movies, you have a few pools to choose from and a solid food court.  Other than that, it's simply used for photo ops with the over-sized statues on campus.
Disney's Port Orleans Resort – French Quarter $246.67 per night – 2 queen beds and a bathroom. Immediately, you'll notice the furniture upgrades and the subtle Disney hints (Hidden Mickey's on the comforter?!).  You'll also be impressed with the main building, The Mint, home to some amazing Creole dishes, live entertainment and New Orleans-style celebrations.  This resort offers 2 unique transportation methods – Horse Drawn Carriages around the resort and Water Taxis to Disney Springs.
Disney's Port Orleans Resort – Riverside $247 per night – 2 Queen Beds and 1 Child-Size Pull-Down bed or 2 Queen Beds and a bathroom.  $.33 is not going to make this one far superior to its resort neighbor but a fun child-size pull-down be might.  For families with children, Riverside has a more "fun" feel inside the rooms than French Quarter.  Still not convinced?  How about the large water wheel that rests on the deck on the bayou?  Need further proof of it being more "fun?"  How about the "swimmin' hole" pool?  Need one more?  While the same transportation is offered at French Quarter, Riverside is pet-friendly!  I knew you'd see the difference!
Disney's Pop Century Resort $176.33 per night – 2 Double Beds or 1 King Bed or 1 Queen Bed and 1 Queen-Size Table Bed and a bathroom.  Options, options, options for what layout you need for a standard room.  And that's good.  What's better is that this resort recently made over the rooms to be more modern so they are some of the newest on the entire property.  You're not going to get too much out of the extras on this property but the price is the real deal here.  Best of the Value Resorts by far!
Disney's Coronado Springs Resort $217.83 per night – 2 Queen Beds and a bathroom.  The Southwestern decor is a nice touch and the sliding doors to close off the bathroom area are an awesome addition for your privacy.  The biggest values come in terms of the amenities.  Because this is home to the largest conference center at Walt Disney World, they'll make it worth your while to keep you on the grounds.  The jogging trails and hammocks around the lake are soothing, the spa is relaxing and the dining is not bad at all.  If you lined up all the resorts from perceived best to perceived worst in any category, Coronado would consistently fall in the middle and that's why it's a great "bang for your buck."

Disney's Polynesian Village Resort $610 per night – 2 Queen Beds or 1 King Bed and 1 Day Bed and a bathroom.  Doesn't that picture just scream "island life" to you?  The headboard, the floral throw and pillow, all giving you the feeling of Polynesian living.  With large bathrooms, the rooms are truly fantastic.  Now let's talk about some of the biggest bangs.  How about jumping on the monorail that passes your resort?  That's right, just find the station and hop aboard.  Or take a boat!  Need an idea for dinner?  Stay at the resort and attend the Spirit of Aloha show.  How about your own entertainment with the Nighttime Electrical Water Pageant?  Location truly is everything here!
Disney's Animal Kingdom Lodge $392 per night – 2 Queen Beds or 1 Queen Bed and 1 Bunk Bed or 1 King Bed and 1 Day Bed and a bathroom.  Jambo!  Transport yourself to Africa with these wonderfully decorated and ornate rooms.  And these aren't even the ones that might overlook the savanna right outside your balcony! With some of the best cuisine in all the resorts, you don't have to go far for good eats.  The pools are fun as they can be likened to watering holes. But it truly is the wildlife you have the opportunity to view that makes this a good value. It's not everyday you can wake up and enjoy the paper and coffee looking at zebras and possibly a giraffe or two.

Disney's Wilderness Lodge $394.83 per night – 2 Queen Beds and a bathroom.  You're probably noticing now similar looks and feels to the rooms.  Well yes, the rooms are not doing to be too much different from resort to resort.  Furniture, beds, etc. all with varying degrees of decor and theme.  But as with the others, Wilderness gets its value from the intangibles. The view of pine trees in Florida is enough to make you stop in amazement.  The creek  will calm any anxiety of a Disney vacation.  You can take a nice boat ride to the Magic Kingdom.  But the lobby.  The lobby may be the absolute best….well ever.  Hand-carved wooden designs all around might just be the perfect setting for you to sit in a chair by the fire, overlook the lake and be one with nature.
Disney's Art of Animation Resort $422 per night (suite) – 1 Queen Bed and 1 Double-Size Table Bed and 1 Double-Size Sleeper Sofa.  Hakuna Matata!  That's the motto if you stay in the Lion King suites.  Or you can stay in Cars or Finding Nemo suites as well. Or even the standard 2-bed Little Mermaid rooms.  But we think the ultimate best value is one of these suites at AofA.  First, they sleep up to 6 so parents can have alone time.  Second, imagine being in one of your favorite movies like those mentioned.  Adding to those, you're on an incredibly themed Disney resort property with large statues and pools based on those movies.  There's a great arcade, a lake that can take you to Pop Century, and a very reliable bus schedule.  When you go on a Disney Vacation, most people want to be surround by Disney 24/7.  For this price and for what you get, it's the best "bang for your buck."
Did we miss any resort?  Which one do you think have the best "bang for your buck" and why?  Take a minute to leave your comments in the section below and remember there's a great, big, beautiful tomorrow!