I have to admit that my family never grew up going camping but my wife's family did. I came around to enjoy it when I did go. Something about slowly life WAAAY down, enjoying the outdoors, the cool weather and the warm fire, traditional camping food and nature trails were relaxing. But as any Disney goer will tell you, relaxing is not usually a Disney goal. Luckily for some, the comfort and slow-pace style of camping is available at Walt Disney World and luckily for us, we have an agent who has done it in the past!
Meet Savannah Sharp. Savannah joined our team in the Spring of 2018 and brings a ton of enthusiasm to our group. Her love for the outdoors includes her many years riding and training horses. She and her husband have had different experiences camping at Disney and look forward to the first one they'll take, now as a family of 3. She took time recently to share what it's like to camp at Disney:
How many times have you camped at Disney?
I've stayed in a cabin once and an RV once while my husband stayed in an RV 5+ times growing up at Camp Wilderness. Our last camping at Disney trip was in October 2016.
So not only did you camp but it was around Halloween. Did they do anything special on the camp grounds?
A lot of people decorate their RVs and hand out candy. It's amazing!
Man that does sound like fun but for those who will go during another time of the year, how do you compare it to other camping grounds?
It's nice and if you're familiar with similar grounds, it's a perfectly fine RV lot. The biggest difference obviously is that there are massive theme parks that are pretty close by!
Did they have "preferred lots" like "preferred rooms" from the traditional resorts?
They do have upgraded lots. And just like standard rooms at the resorts, standard lots could mean a lot more walking.
A good happy medium is the cabins.
Only cons to the cabins is it sleeps like a family suite at
Art of Animation (
AoA), costs about the same and the AoA suite has 2 bathrooms. Cabins have 1 bathroom.
Disney resorts have a tremendous reputation for theming and entertainment. Do the camping grounds live up to that reputation?
The amenities are all nice but it definitely lacks the total immersion into Disney that the hotels give you. The cabins do a better job at that.
The pool is not like a resort pool, it's very plain. And if you don't pay for a premium spot you have to be prepared to walk to park transportation.
My husband joked "now you might be parked it what feels like South Carolina but you can take a boat to Magic Kingdom."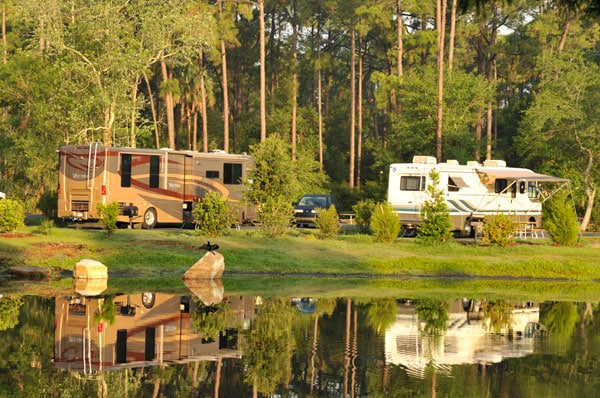 But does it feel like you are actually camping?
The views of the forest and the water are awesome, there is a ton of freedom for setting up your own outdoor seating and bringing your own stuff.
To add, my husband says he remembers renting golf carts when they didn't do premium lots. He enjoyed it growing up because it felt like camping—his sister hated it growing up because it felt like camping
Is the camping price reasonable?
It ends up costing about the same as Pop Century maybe Caribbean Beach if you rent the RV.
Wait, you can rent an RV and golf carts?
While not an official recommendation for them, there is a company TravelTrailerRent.com locally owned and operated. They are an Official Vendor of Camp Wilderness. Rentals from them include the campers, delivery setup before you arrive, bedding, outside chairs, towers, and depending on some rentals, they may through in a golf cart. It takes the hassle out of towing from out of town but gives you the true camping feel!
Great Stuff Savannah! See you on the camping grounds!
Well there you have it! Did it make you want to consider camping at Disney next time? Thanks for reading and remember there's a great, big, beautiful tomorrow!