Today will feature our fifth article in our "Did You Miss Me?" series where we look at components of Disney vacationing that has been temporarily postponed or cancelled due to post-COVID regulations. Last week, we look at the modifications of character interactions and new solutions for meet-and-greets, character dining and cavalcade viewing.  One of the positives is that you do not have to waste time that you could spend on attractions in the parks.  But what is it really like to have to wait in the queues for EVERY attraction?
Welcome to Believe Vacations' Weekly Post where today, we continue our "Did You Miss Me?" by looking at a service that has been the subject of many articles and books and completely changed the amusement park experience on its head 20 years ago – Fast Passes.  Why are there no fast passes you ask?  Is it worth waiting in the lines, you ponder?  Skip ahead with us and let's get going immediately…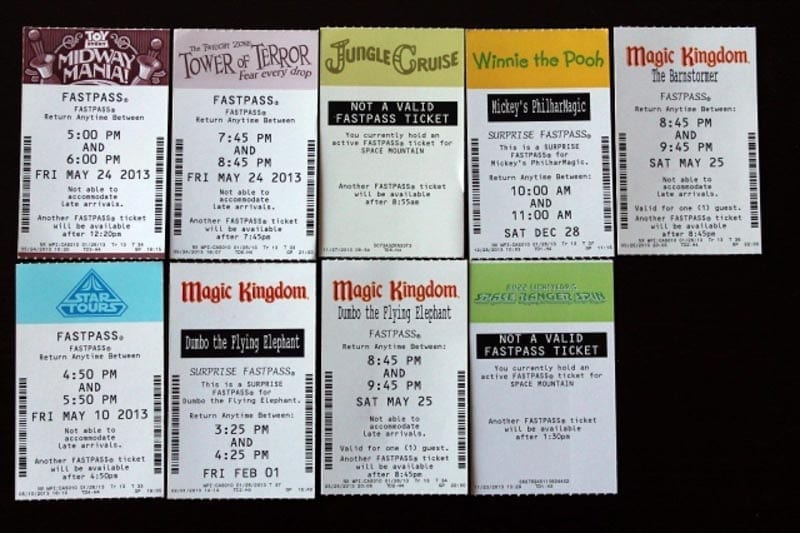 What was Fast Pass?
It's hard to imagine a time before Fast Pass but that was only in 1999.  The idea that you could obtain a return time for a ride and skip the long lines of your favorite attractions was mind-boggling.  You could ride the premiere attractions and still have time to catch the lower to mid-range attractions in between.  At first, you would go to a ticket machine near the attraction you wanted to experience and obtain a time to come back.  The most recent version at Walt Disney World allowed you to claim 3 Fast Pass selections for each park day 60 days prior to your arrival.  Fast Pass selection was a science, a mark of pride for agents who obtained coveted selections for their guests and the easiest way to get the most bang for your buck.
What are the options now?
We've returned to the old days of attending theme parks where you would approach an attraction and determine whether or not to ride depending on the length of the line.  Disney still publishes the Stand-By wait time estimate and in the early days of reopening, times were actually 40-50% less than the published times.  The My Disney Experience App still posts the real time waits.  You just have to know the traffic patterns at each park these days, knowing the attractions that will be busy as soon as the park opens and which will drop off significantly after lunch.
What do the Believe Vacation Agents think?
If you were to ask our team, most of us would've admitted that we were worried about no Fast Pass.  It simply became a way of life and a huge component of our complimentary services.  But when we experienced it for ourselves, we couldn't believe all the…freedom?  "I love the ability to have a more relaxed day at the parks and to not stress about sticking to a schedule or always being on my phone to pull the next FastPass experience" said owner, Mary-Morning Radcliffe.  "I love being able to plan my day around the crowds/wait time and general feel rather than months in advance," said agent Kyle Holland.  Agent Ashley Suit added to the sentiments, saying "I'm hoping we don't see FPs for a while."
However, there have been obvious increases in wait times, especially as we get deeper into the Halloween and soon, Christmas seasons.  "I would miss FP with the hour waits I'm seeing lately," said agent Kristi Shipp.  Agent Ashley Holland added, "We were there with such low crowds we didn't need them. I will definitely want them back when crowds increase!"
Why it's OK?
You're not rushing from one attraction to the other.  You're not mentally keeping a game plan and second-guessing where to go at what time.  You're not obligated to stick to a plan you made 2 months ago.  You can be flexible.  You can stop and look around and take in the aura of the parks.  You can enjoy the elaborate queues.  You can slow down.  You can say off your phone!
What options do I have if I want to skip the lines?
Obviously we are not condoning faking either of these but Disney is still enforcing their queue and boarding procedures for those with disabilities and also rider swap.  Other than that, you are lining up in the stand-by queue and social distancing your way to the front.
What we think will happen in 2021?
Fast Passes will return and unfortunately, we'll see more tiers.  Hollywood Studios and EPCOT already enforce a tiered Fast Pass system.  Animal Kingdom currently does not and may not have a need for the short term.  But Magic Kingdom will soon debut the highly anticipated TRON attraction.  And with Seven Dwarfs Mine Train being more popular than ever and Splash Mountain soon to undergo a huge transformation, don't be surprised to see at least these 3 in the new Magic Kingdom tiered system.