For more than 20 years, Islands of Adventure has become a more "mature" alternative theme park compared to those who want to play princess and pirate and "never grow up."  In fact, when the younger generation is asked about their favorite lands and attractions, they may tell you their favorites are within Islands of Adventure, more so than Universal Studios, let alone any of the Disney theme parks.  Skip forward to 2021 and I've never even sniffed the opportunity of walking into the park.  First, I assumed my kids would not meet many of the height requirements and that my wife wouldn't ride some of the most thrilling attractions there.  But here I am, about to step through those gates and I have questions…
Welcome to another weekly post from Believe Vacations where today, we continue a 6-article series about "first-time visits" to 3 of the most famous theme parks in the world.  Just like we did with Universal Studios, this article will pose 10 questions I have about Islands of Adventures and a future article will have the answers to those questions.  If you're a family who has never been before, you may enjoy and have the same questions I do.  So you'll want to check back in the future with my answers and reviews.  For now, here's what's on my mind for Islands of Adventure:
10) How is the food? 
You'll realize during this entire article that I mean it when I say, I really have no idea what to expect at this park.  It's hard enough for me to remember the attractions let alone the places to eat.  A quick look at the website shows some can't-miss chains like Cinnabon and Starbucks, so that's good to know.  I'm liking the theme names of this park more than the others, especially ones like Captain America Diner, Three Broomsticks and Green Eggs & Ham Cafe.  But there is one I would really like to try…
Prediction: Thunder Falls Terrace has ribs, chicken and other items this Alabama kid enjoys.  It may not be the most exciting themed restaurant but menu choice is important and I'm looking forward to it.
9) What character will be my favorite? 
As we mentioned in the opening, no princesses and pirates here!  We have classic toons, superheroes, and some of our favorites from Dr. Seuss.  Again, these character greetings will be modified but if I had one I may need to get a picture of…
Prediction:…it's Sam-I-Am.  My youngest is named Sam.  It comes naturally that some people call him Sam-I-Am.  Therefore, I think it's only appropriate I meet the man himself!
8) Will lines be ridiculous in January during a national pandemic? 
Islands of Adventure is the more popular of the two Universal parks so I do expect some higher wait times.  I will be there on either a Thursday or Friday instead of a Saturday so I'll say…
Prediction:…meh, maybe the weather will be overcast or cold and the locals will stay home.  But I don't think I'll wait more than 50 minutes for any one attraction.
7) What will be my favorite non-attraction activity?
Again, we have to take everything with a grain of salt due to COVID restrictions and I'm sure some of the nighttime and entertainment activities are either modified or halted.  So while I haven't researched many shows or spur-of-the-moment parades, I have had my eye on…
Prediction:…the Raptor Encounter!  I experienced something similar a few years ago when this Dino-puppetry team put on an exhibit at the local civic center.  And the raptor was a big hit!  So I'm looking forward to possibly posing with Blue and doing my best Dr. Ian Malcom.
6) What will be my favorite land?
Before I pick, let's list them: Jurassic Park, The Lost Continent, Marvel Super Hero Island, Port of Entry, Seuss Landing, Skull Island: Reign of Kong, Toon Lagoon, The Wizarding World of Harry Potter – Hogsmeade.
Now admittedly, this may be the hardest prediction.  Of course, there's Hogsmeade but I'll see something similar at Universal Studios. I've only recently gotten into Marvel and I'm a little curious about a world based on Dr. Seuss.
Prediction: Since the park opened, I've always wanted to see Jurassic Park.  I think I saw the ride will be closed due to cold weather when I am there so that's a bummer.  But the whole setting that I saw in 1993 on the big screen has always made me wonder what it would feel like to be that close to the dinos.  I have to be true to my 10 year-old self.  I can't wait to tell that kid, "Welcome…to Jurassic Park!"
5) What will be my favorite attraction?
Like I mentioned, this park may have THE best collection of thrill rides at one park in Central Florida.  There are just too many to list: Hagrid's Motorbikes, The Incredible Hulk Coaster, Harry Potter, Spider-Man, etc. etc. etc.  But after thinking about it, I'm going with the nostalgia factor…with a twist.
Prediction: Remember from my Universal article, I mentioned my love for the original "big attractions" when the park first opened?  Remember when I mentioned Kongfrontation? Well I know that Skull Island: Reign of Kong does not have the same plot as the former.  But it is still a HUGE Kong that I can come face-to-face with during the ride.  So here's to you old friend and looking forward to seeing you again!
4) What keeps kids most entertained?
This is the part that proves that my kids and wife would love the heck out of Islands of Adventure.  It's basically the highlights of Walt Disney World reskinned.  Splash Mountain = Jurassic Park the Ride; Flight of Passage = Harry Potter and the Forbidden Journey; Ollivander's Wand Shop = Savi Lightsabers; Popeye & Bluto's Bilge-Rat Barges = Kali River Rapids.  Do we need to go on?
Prediction: With that being said, it's Marvel all the way!  I think kids have a better experience at Diagon Alley than Hogsmeade at Universal Studios so let's go with the superheroes.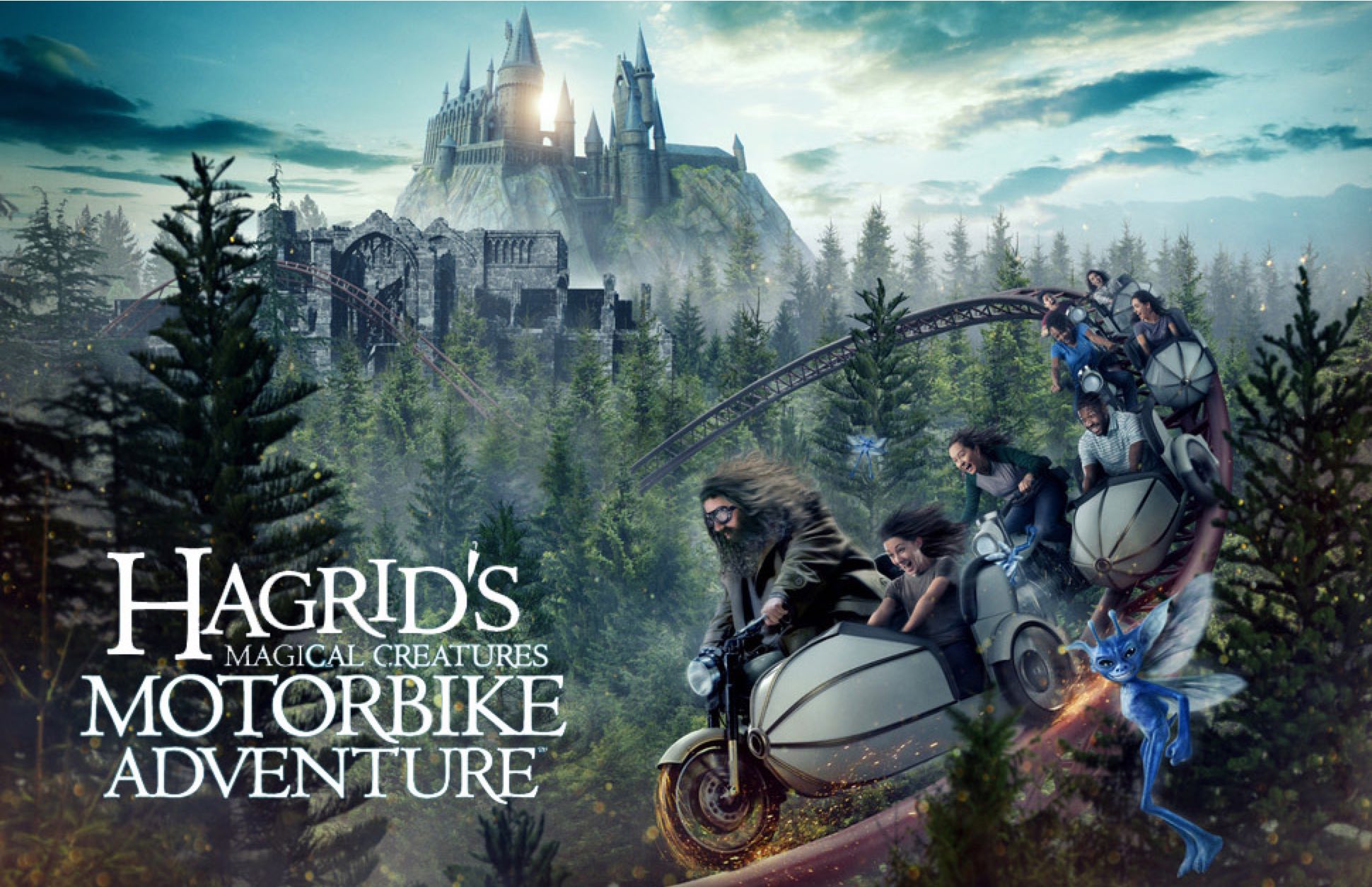 3) What keeps adults most entertained?
Back in July 2020, my family drove from Alabaster, AL to Walt Disney World in Central Florida.  We left at 2AM CST. We stopped to rest a few times and had a meal on the way down.  We pulled into the resort a little after 1PM EST, which was a car-ride of more than 10 hours. So what does that mean to my prediction?
Prediction: On June 14, 2019, it was estimated that Hagrid's Magical Creatures Motorbike Adventure had a 600 minute wait.  That's 10 hours!  That's……well it's something.  And if grown men and women are willing to wait 10 hours for an attraction, then it has to be my prediction for this question.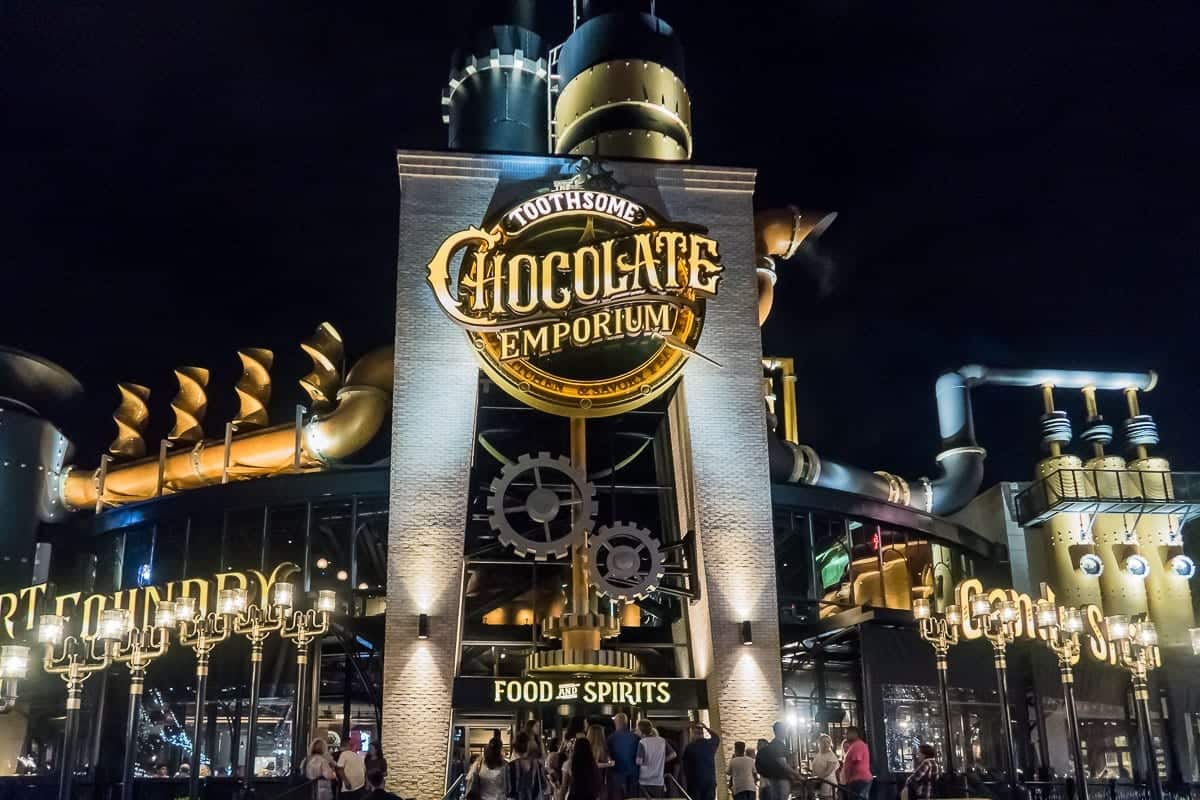 2) What is the best part about CityWalk?
Just like Disney Springs, Universal has it's own shopping and entertainment district known as CityWalk.  Again, CityWalk opened after my last visit so it's new to me.  But the options for fun and excitement are plenty.  Restaurants include Hard Rock Cafe, Margaritaville, Bubba Gump, Bob Marley's and other themed locales.  There's a movie theatre, a mini-golf course and others but mostly, people know it for being home of the Blue Man Group.
Prediction: The Toothsome Chocolate Emporium & Savory Feast Kitchen.  As a kid, I wanted my own personal Willy Wonka-like palace of chocolate.  But where Toothsome lacks in Oompa-Loompas, it more than makes up for it with milkshakes and desserts that have to be seen to be believed!
1) Will it compare to WDW?
Prediction: I am always going to be a fan of the nostalgia of the Disney Parks and in fact, it is the "newest" of the 6 main theme parks between Disney and Universal.  But if I'm being honest, I've been looking forward to finally stepping into this park for the first time in my life.  I know I won't get to experience everything and I know it will take more trips to take it all in. While I won't be ready to say it matches the EXPERIENCE of WDW, I predict I come back giving this park a very high spot in my personal rankings of theme parks.  How high will be determined by my adventure in the last park I feature in this series!