1998 was the year.  The founding of Google; the Clinton-Lewinsky scandal; A Bug's Life hit the theatres; Chumbawumba was a break-out band; the Jerry Springer show was "too hot for TV; yours truly finished his freshman year of high school and it would be the last time I stepped into Universal Studios.  At that time, Nick Studios was still in operation, Twister: The Ride had just opened, Islands of Adventure would open in the following months, and 2 of the original main attractions were still kicking in Kongfrontation and Back to the Future: The Ride.  To say Universal in Orlando has undergone some changes since my list visit is an understatement.  I've kept up on the park from afar through my training, bookings and YouTube videos but what will I think of it when I return in January 2021?
Welcome to another weekly post from Believe Vacations where today, we start a 6-article series about "first-time visits" to 3 of the most famous theme parks in the world.  A few years ago, I went on my first Disney Cruise and I decided to do a 2-article series where the first article was a list of questions I had and then, I made predictions for the cruise.  The second article acted as both a recap and a review of my questions and predictions.  I am going to attempt the same for this series, starting with questions and predictions for my first visit in over 20 years at Universal Studios.  If you're a family who has never been before, you may enjoy and have the same questions I do.  So you'll want to check back in the future with my answers and reviews.  For now, here's what's on my mind for Universal:
10) How is the food? 
With Disney, I am very familiar with the Disney Dining options available prior to COVID and knowing the difference between table and quick-service.  But Universal is not as defined and the restaurants are not as famous.  Admittedly, all theme park food is theme park food and unless it's a signature restaurant, I have zero expectations for finding a dish I can't live without.  With that being said, there are a few tasty morsels and possibly some adult soda-pops I am considering.
Prediction: I'm not the geekiest Simpsons or Harry Potter fan but I feel a tasty Flaming Moe at Moe's Tavern or Butterbeer from the Leaky Cauldron with an appetizer to boot will tickle the taste buds the most.
9) What character will be my favorite? 
As is with Disney, traditional meet-and-greets will be a thing of the past during my trip so I don't expect a close-up with anyone in tights or a cape.  But that doesn't mean some of the best characters in entertainment history will not be out and about looking for an opportunity to sneak into one of your photos.
Prediction: There are Transformers and Simpsons characters, Minions and Wizards, cartoon characters and more.  But if I see Doc Brown polishing up his Delorean, that may be the ultimate for me.
8) Will lines be ridiculous in January during a national pandemic? 
During the week between Christmas and New Years, there were unfortunate stories about unbelievable crowd sizes allowed into the parks.  So much so that Universal issued a statement basically saying "try not to come on the weekends."  Well it won't be the Christmas week and it'll be during the week so I think I'm going to be ok.
Prediction: Much like my Disney trip in July, I think crowds will be on the non-existent side in the early mornings, pick up during lunch but then drop off closer to park close.  School will be back in session and I'm a morning person so we're good!
7) What will be my favorite non-attraction activity?
Because I'm not dying to go on ALL the rides at Universal, I am really looking forward to the surroundings.  What do the queues look like?  How is the music that enhances the ambiance?  Are the employees in fun costumes?  Basically, how else can I compare this to Disney!
Prediction: I am looking forward to seeing my favorite landmarks of yesteryear – the façade that houses Revenge of The Mummy that once held Kongfrontation, Jaws hanging outside Fisherman's Wharf and of course, the nostalgia of knowing what was under the refurbished area once known as Nick Studios!
6) What will be my favorite land?
The Magic Kingdom has Adventureland, Frontierland, Liberty Square, Fantasyland, Tomorrowland and Main Street USA.  Now admittedly, I do not know the "lands" of Universal by heart like I do for Disney.  But I do know of one that has made Universal a strong competitor for Disney.
Prediction: It has to be Diagon Alley from the Harry Potter movies, right?  Like, by a large margin?
5) What will be my favorite attraction?
Where do we start?  The 3D/4D motion simulators? The rollercoasters, both indoor and outdoor? Anything from Harry Potter?  Man this will be a tough prediction…
Prediction:…but I'm going to go wild card here and say Hollywood Rip Ride Rockit. Originally, I was going to say Revenge of the Mummy but I saw where it will be under refurbishment when I'm there.  So I'm going with an intense outdoor roller coaster!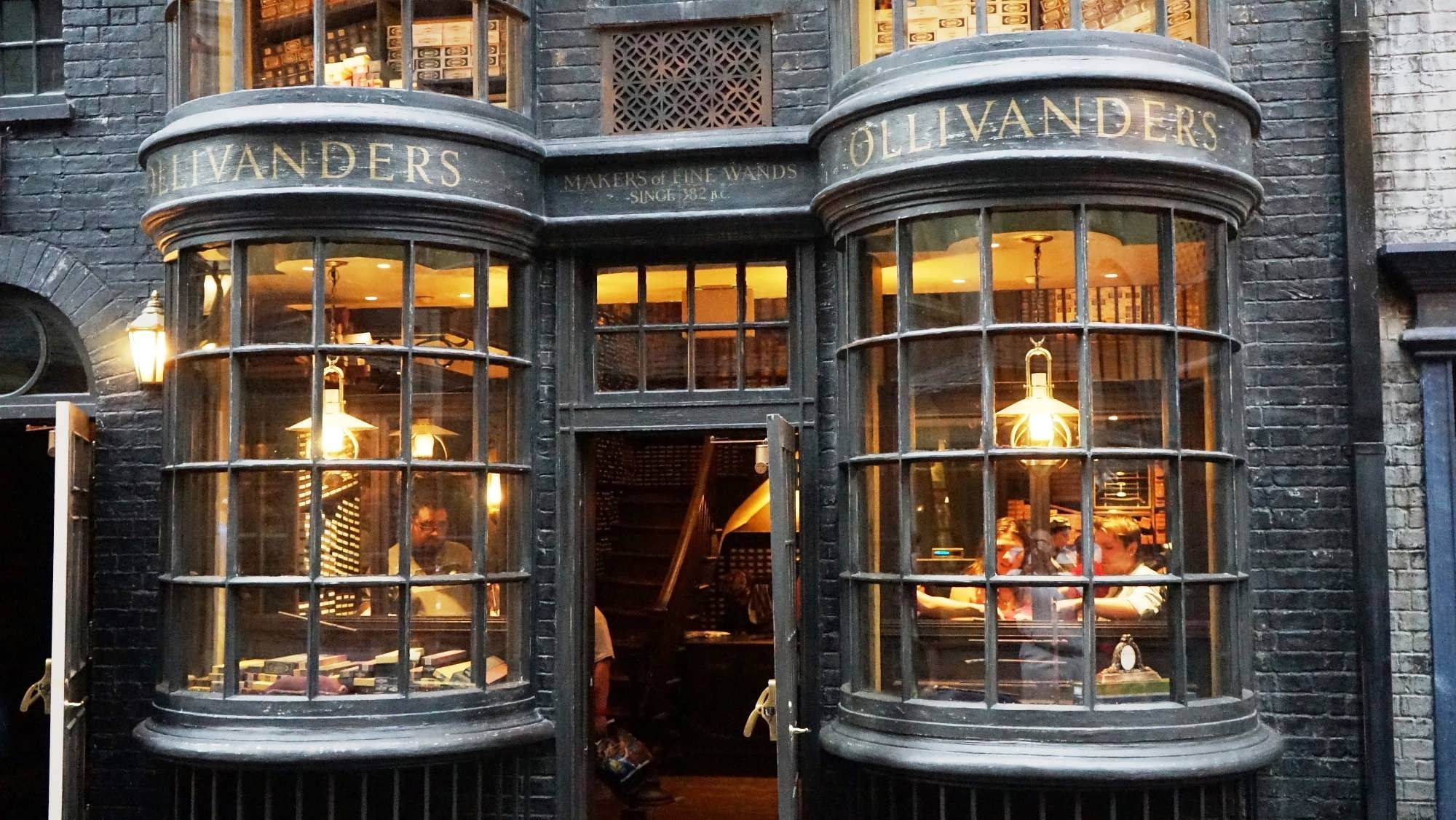 4) What keeps kids most entertained?
While there are zero kids going on this trip, I still want to know what there is for the little ones.  There are play areas and kid-sized attractions and really, all of the Woody Woodpecker area would work perfectly.  And even though I think the modified character experiences will still be a hit…
Prediction: Ollivander's Wand Shop will be the prediction.  Yes, I know there's a shop at Islands of Adventure but I think this is THE kids locale at Universal Studios for memories to take with them for years to come.
3) What keeps adults most entertained?
The obvious choice is the most popular area of the park which is Diagon Alley.  The wannabe wizards and witches will flock to their magical home, take photos, dress the part and participate in all the local scenery.  Yet…
Prediction: Don't forget that many adults GREW UP with the Simpsons!  The yellow-skinned family from Illinois has been in our lives for over 31 years now and is still going.  And with places like Moe's Tavern welcoming us, don't be surprised if the Simpson's area gives Harry Potter a run for it's money when it comes to adults!
2) Best part about the Hard Rock Hotel?
I had to throw in a question about the living arrangements for a few nights.  Universal does have its own set of hotels and resorts associated with their parks.  Hard Rock Hotel is considered one of the upper-tier resorts (Premier is the official designation) and of course, has musical touches all around.  Perfect for a music guy like me!
Prediction: IF….and this is a COVID "IF"….they allow the "Check Out a Fender Guitar" service, then it's game, set and match and I'll feel bad for my roommate, Eric.  But if not, then the Water Taxi service to the parks!
1) Will it compare to WDW?
I have the benefit of writing this article directly after the Christmas season.  Unfortunately, through news articles and clients, I was told that Universal did not live up to the operational smoothness you might find at Walt Disney World.  Maybe it was the mad rush of vacationers that wanted one final trip in 2020; maybe it was uncertainty of the definition of "park capacity," I'm not sure.  But that does weigh into my prediction.
Prediction: From start to finish, Disney has maximizing your vacation down pact.  From the Magical Express to check-in, to the park and dining reservations, to memory maker and all things in between, they take everything you can think of and have a "Disney" answer for it.  So, no, Universal will not compare.  However…..I bet I come back raving that Diagon Alley really is worth the price of admission and will be higher than the bar currently set by Star Wars: A Galaxy's Edge!