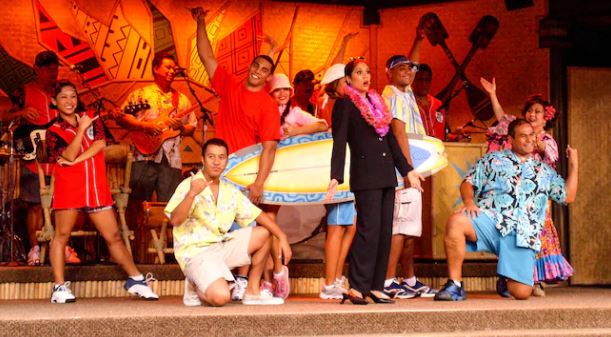 20 Apr

Resorts with Best Entertainment

In and of themselves, the resorts at Walt Disney World should be entertainment enough.  From over-sized statues at the value resorts, to themed pools at the moderate resorts, to extra amenities at the deluxe resorts, your lodging location of choice will have enough to do should you need a break from the parks or (gasp!) should it decide to rain one day on your vacation.  Regardless, there are still some special entertainment draws that make each resort popular and that's why we are here today.

Welcome to Believe Vacations' quest to find the BEST RESORT AT DISNEY where today, we'll reveal the results of our agents' voting which resorts had the BEST ENTERTAINMENT.  For this list, our agents considered all aspects of the resort that would make families stop and take extra time out of their schedule to enjoy that particular resort.  More emphasis was added for entertainment options solely belonging to one particular resort and we've highlighted the one "must-do" entertainment option for each.  So let's have some fun and start with:
Photo Courtesy of Walt Disney World
Disney's All-Star Movies/Music/Sports Resorts – Here we are again with this cluster of value resorts.  The over-sized statues are the obvious reason they make the list as they provide smiles as well as incredible photo opportunities for all ages.  Each has themed pools and Disney characters as well as arcades and decent gift shops.  Must do: Movies Under the Stars – Watch your favorite Disney movies by the pool under the stars with your family and cast members.
Photo Courtesy of Walt Disney World
Disney's Pop Century Resort – Again with the oversized statues but this time with a nostalgic twist for all ages.  As with all value resorts, themed pools are always a highlight as is the arcade and movies under the stars.  Must do: Cross over to Art of Animation – For the ultimate in Disney themed lodging, take a short walk across the lake to the neighboring resort and enjoy both locations in one day.
Photo Courtesy of Walt Disney World
Disney's Yacht Club and Beach Club Resorts – Deluxe resorts go over and above expectations when it comes to entertainment options on property.  Take Yacht Club and Beach Club and their nautical theme and you'll receive a 3 acre waterland adventure.  Or maybe you'll try the motorized boat rentals.  Must do: Pirate Adventure Cruise – Enjoy a 2-hour treasure hunt full of scallywags and swashbuckling adventures.
Photo Courtesy of Walt Disney World
Disney's Coronado Springs Resort – While classified as a "Moderate" resort, this place is home to the largest convention meeting spaces on property so there has to be incredible entertainment options.  If the pool with the Mayan water slide doesn't tickle your fancy, you may enjoy a leisurely stroll or jog around the immense 22-acre Lago Dorado.  Must do: La Vida Health Club – Enjoy your choice of fitness, spa or salon services and look your best while on vacation.
Photo Courtesy of Walt Disney World
Disney's Grand Floridian Resort & Spa – Prepare to be spoiled!  Prepare to be engulfed in elegance!  There is something for all likes here.  Enjoy the outdoor pool with a slide or stay inside and listen to live music.  Check out the fireworks over the Magic Kingdom or soothe the senses with a relaxing massage or take a ride on a specialty cruise.  Must do: Dine somewhere at the resort – Home to some of the most elaborate dining options at Walt Disney World, Grand Floridian will savor your taste buds with a variety of meals from character dining and tea to the 5-star Victoria & Albert's. 
Photo Courtesy of Walt Disney World
Disney's Art of Animation Resort – Set apart from its fellow Value resorts, this one just has a little more Disney magic to it.  Enjoy the 4 themed sections of this resort with larger-than-life statues of characters from your favorite Disney classics.  Take a dip in one of the themed pools and don't forget to cross the lake over to Pop Century as kind of a two-for-one deal!  Must do: Learn to Draw Class – Have you ever wondered how hard it was to draw a Disney character?  Sit down with a cast member in the lobby and learn the secrets to bringing your favorite character to life on paper!
Photo Courtesy of Walt Disney World
Disney's Contemporary Resort – Being so close to the Magic Kingdom and on the monorail loop is entertaining enough, but there are a few entertainment options worth noting.  Like the 17-foot high curving waterslide or the cabana rentals.  Athletic types will enjoy the variety of courts, trails and health activities scheduled throughout the day.  And use that proximity to the park to your benefit and enjoy a variety of transportation methods, spectacular views of the fireworks and a front-row seat to the Electrical Water Pageant.  Must do: Pixar Play Zone – Having been opened only one week at time of this post, PPZ allows kids to enjoy an evening of fun and games with your favorite Toy Story characters while feasting on dinner and dessert.  A perfect night for both kids and adults!
Photo Courtesy of Walt Disney World
Disney's Animal Kingdom Lodge – Sometimes you just need to let the animals entertain you.  The pools are nice and large.  The resort offers kid's club activities and the dining is amazing.  Must do: Animal sightings – But of course the main draw is the chance to see exotic animals up close.  Roaming the replica savanna, guests will marvel at seeing these magnificent beasts within a few yards.  Especially if you're staying in a room that overlooks the savanna, entertainment options on the entire Disney property that bring this much excitement and memories are very rare.
Photo Courtesy of Walt Disney World
Disney's Polynesian Village Resort – Island entertainment awaits and there is a reason why it is some of the most engaging art in the world.  On the coveted monorail loop, guests from other resorts flock to this Pacific resort to see the horticulture and dine at the signature restaurants.  Kids will enjoy Lilo's Playhouse, adults will enjoy the beach area, and everyone will enjoy Must do: The Spirit of Aloha Dinner Show – Enjoy an authentic Polynesian luau complete with hula dancing, fire dances, all-you-can-eat meals and fun for the entire family!
Did we miss anything?  Which resort provides you with the best entertainment options?  Leave your comments in the section below and remember there's a great, big, beautiful tomorrow!