27 Apr

Resorts with Best Pools

The weather is starting to tick upwards in degrees (maybe not the North and the Dakotas) but in Alabama, our community pool opens a week from the day this article is published.  A good pool can be the catalyst for many of our day-to-day activities – it can provide you a good workout, recreation with friends, contests and relaxation.  Naturally, resorts are going to have pools so that everyone can accomplish these activities.  And in true Disney form, they are going to make their pools as much of the overall "show" as anything else on the property.  But which pools are the best?  That's why we're here!

Welcome to Believe Vacations' weekly post to determine the BEST RESORT AT DISNEY.  Today, in our final post before next week's grand reveal, we look at which resorts have the Best Pools according to our agents.  For this post, we simply looked at the pools on the properties and determined how COOL the POOL is and ranked it.  Simple enough, right?  Then let's see the results:
Photo Courtesy of Walt Disney World
Disney's Caribbean Beach Resort – Fuentes del Morro Pool has an incredible Spanish fortress look to it, complete with a shipwrecked play area. With two water slides across the pool from each other, including one over 100 feet in length, there will be enough to turn this quick dip in the pool to a true swashbuckling adventure!
Photo Courtesy of Walt Disney World
Disney's Grand Floridian Resort & Spa – The Beach Pool, complete with a walking bridge, waterfall and 181-foot slide, is an immense aquatic reservoir overlooking the Seven Seas Lagoon. From the sandy beach that leads to the zero-entry waterfront of the pool, you'll be amazed at the picturesque settings for family photos and fun.

Disney's Port Orleans Resort – French Quarter – Doubloon Lagoon is the sight of an incredible party hosted by a wonderful alligator band.  Check out Scales, the sea serpent slide and the water play area as his highness, King Neptune, watches over all the action!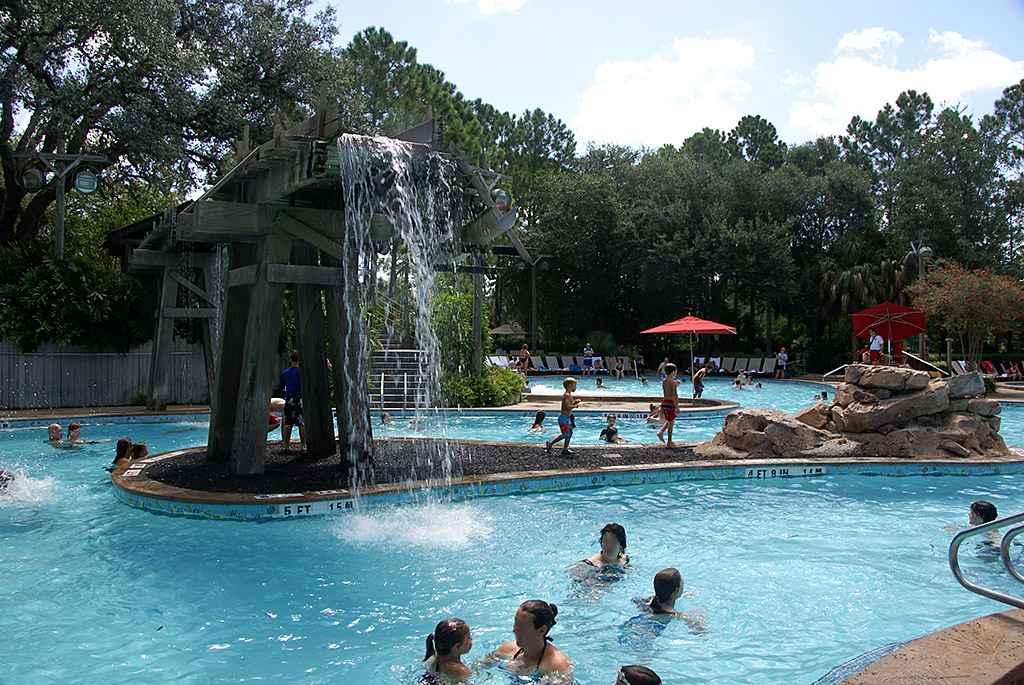 Disney's Port Orleans Resort – Riverside – Dubbed Ol' Man Island, don't let the name fool you into thinking there is little excitement.  The abandoned sawmill feel provides a wonderful combination of relaxation and fun.  With a 95-foot long waterslide and water dripping off the overhangs, there's plenty for all ages and not just ol' men!
Disney's Animal Kingdom Lodge – Enjoy the relaxation and sensation that a watering hole in the middle of the savanna brings to the beasts of this world.  This humongous pool has something for everything – overlooking the Uzima Savanna, a 67-foot long slide, plenty of room to lounge and bathe, a zero-entry point and all in the middle of African architecture.

Disney's Polynesian Village Resort – Ever desired to swim under a towering volcano?  How about a relaxing waterfall?  Need a thrill on a 142 foot-long water slide?   The Lava Pool at Disney's Polynesian Village Resort is the perfect pool for all ages and thrill levels.  And if that's not enough, Kiki Tiki's Splash Play Area is just around the corner for the little ones.
Photo Courtesy of Walt Disney World
Disney's Wilderness Lodge – Having just undergone a huge renovation, Copper Creek Springs Pool is back and better than ever.  Enjoy a heated pool, perfect for all seasons of the year.  Zip down an exciting 67-foot water slide built into rocks and relax in hot and cold whirlpool spas.  Or simply pull up a chair and let the soothing sounds of nature and the splashing of the water provide the perfect surroundings for a welcomed nap!
Photo Courtesy of Walt Disney World
Disney's Coronado Springs Resort – Much like the volcano at the Polynesian, Coronado Springs has its own landmark for its largest pool – a Mayan pyramid.  As a part of the Dig Site, you'll discover the Lost City of Cibola pool, complete with waters streaming down the steps of the pyramid.   A 123-foot-long waterslide features a jaguar but watch out, he'll spit at you!  For the relaxing sorts, the largest hot tub on Walt Disney World Resort property, with room for 22 people, is here as well.
Disney's Art of Animation Resort – 3 different pools for 3 different themed sections of the resort.  In the Cars section, you'll be greeted by Cozy Cone Pool.  In The Little Mermaid section, you'll find Ariel and her friends next to Flippin' Fins Pool.  But the mecca of Disney pools is found at what is simply known as THE BIG BLUE POOL!  Enjoy actually listening to your favorite Disney songs via underwater speakers at the largest hotel pool in all of Walt Disney World Resort—over 308,527 gallons! And being surrounded by your favorite friends from the Finding Nemo franchise, this pool will provide the ultimate multi-sensory experience!
Did we miss anything?  Which Disney pool do you find yourself wanting to jump into?  Leave your comments in the section below and remember there's a great, big, beautiful tomorrow!