In 2012, Lucasfilm, the empire that contains Star Wars, was purchased by Disney. Less than 3 years later, Disney announced a massive overhaul of the Disneyland Resort and Disney's Hollywood Studios culminating in the grand opening of what would be called "Star Wars Land." For years, fans received updates and entertained rumors about everything you could imagine – attractions, dining, the official name, and more. And just this past week, it was officially announced that Star Wars: Galaxy's Edge would officially open May 31st in California and August 29th in Florida. And with that, we're ready to journey a long time ago, to a galaxy far, far away….
Welcome to Believe Vacations' Weekly Post where today, we will provide you with EVERYTHING WE CAN THINK of about Star Wars: Galaxy's Edge. We will go through everything from land design to attractions, dining to characters and even show you where it comes into play with the already established Star Wars experiences. It's going to be a long one so let's get started:
Making Reservations
Would you believe demand is pretty high to be there around opening day? But do not be discouraged as the agents of Believe Vacations are here to assist. If you are planning to attend Disneyland the first month of opening, you will need to purchase a valid theme park admission and must make a no-cost reservation to access the land. If you are staying at an on-site property, you will receive one reservation per registered guest to access the land. In Florida, you will not have a reservation but need valid park admission to Disney's Hollywood Studios. Galaxy's Edge will also be open during the park's Extra Magic Hours. At both parks, capacity and participation will be subject to restraints and restrictions. At this point, we can't possibly anticipate the crowd levels to advise WHEN the best time to go would be; but we do have suggestions as to WHERE to stay. By choosing either Disney's Caribbean Beach Resort, Disney's Art of Animation Resort, or Disney's Pop Century Resort, you'll have the chance to experience the new skyliners that fly directly to Hollywood Studios. For a nautical entrance, look at staying at the Yacht and Beach Club Resorts which are only a short boat ride away from the park. And for those want to avoid traffic or the buses, check out the Disney's Boardwalk Inn as it is one of the closest properties and within "walking distance" to the front gates of Hollywood Studios.
Welcome to Batuu
If you thought Cars Land, Pandora and Toy Story Land were amazing, Galaxy's Edge is the largest expansion ever at a Disney Park at 14-acres! From two full-sized AT-AT Walkers to traders and smugglers in the streets, you and your family are inside the Black Spire Outpost on the planet Batuu – one of the best ways to get the full feel of Black Spire Outpost. There, we'll visit the Black Spire marketplace filled with sights, sounds, smells, and even tastes of Batuu. And to make it even more incredible, your experience within the entire land will be determined by how you perform on the two main attractions. So you better bring your best performance or else it will be a rough go with some rough characters.
Characters
Every land has to have its characters and Galaxy's Edge is no different. BB-8, Chewbacca, and members of the First Order will be waiting to great you. We expect Kylo Ren and the Stormtroopers to hang around as well. As fans of the original trilogy will enjoy meeting Nien Nunb (Lando's co-pilot)!
Dining Options
Apparently, Disney thinks people will be hungry visiting Batuu. We mentioned the tastes of Batuu and here are the 4 new savory stops you'll want to visit:
Docking Bay 7 Food and Cargo – The new fast-casual "food truck" features the cuisine artist himself, Chef Strono "Cookie" Tuggs . Menu highlights include Yobshrimp Noodle Salad, The Oven-roasted Tip Yip, Raspberry creme puffs with passion fruit mousse and more!
Kat Saka's Kettle – This cart vendor will be very popular selling Outpost Mix (sweet and salty popcorn snack with a hint of spice).
Ronto Roasters – Imagine a large podracing engine turned into a barbecue pit! We're told to try the Turkey Jerky, and the Ronto Wrap filled with spiced grilled sausage and roasted pork. Popular non-alcoholic drinks will also be sold.
Milk Stand – You get two choices: blue milk, first seen in Star Wars: A New Hope, and green milk, introduced in Star Wars: The Last Jedi.
Olga's Cantina– Kids, adults and other out-worldly creatures will find cuisine, drinks and musical entertainment is provided courtesy of RX-24!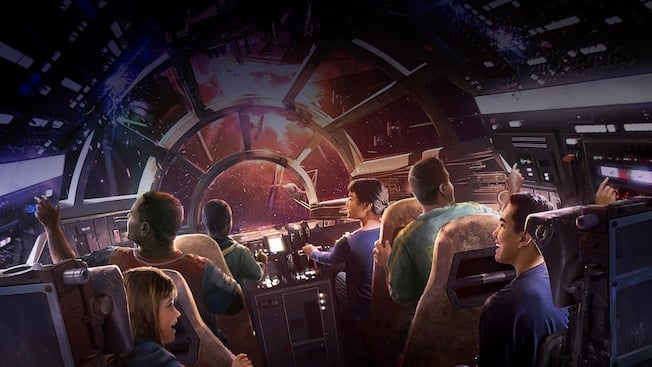 Attractions
Like we weren't going to address this! Here is what we know about the two new attractions you will see in the future at Galaxy's Edge:
Millennium Falcon: Smugglers Run
Hondo is looking for new smugglers to assist the Resistance and he's got the Millennium Falcon ready for you. That's right, you actually drive Han Solo's spaceship! Just like Mission: Space at Epcot, you can pilot, shoot the blasters, engage in hyperdrive and more to complete the mission and hopefully, bring the ship back in one piece. But watch for the bounty hunter Harko and don't get into any trouble at the Cantina! Depending on how well your team performs will determine your overall experience both during the attraction and during your time at Batuu. You would hate to get off the ship, visit Oga's and get yelled at for failing your mission, wouldn't ya?
HEIGHT REQUIREMENT: 38″ FASTPASS AVAILABLE: Not initially offered at opening
Star Wars: Rise of the Resistance
Opening in phase two of Galaxy's Edge will be "the most ambitious, immersive and advanced attraction ever imagined" where you are at the center of a battle between the First Order and the Resistance. In this attraction, real-life is thrown into a "cinematic immersive experience." Taking part in several stages and lasting anywhere from 15-25 minutes, you'll get up close with real X-wing fighters, Animatronic Stormtroopers, and TIE fighters. And as you go, you'll find yourself face-to-face with Kylo Ren and looking up at the intimidating AT-ATs.
HEIGHT REQUIREMENT: 40″ FASTPASS AVAILABLE: Not initially offered at opening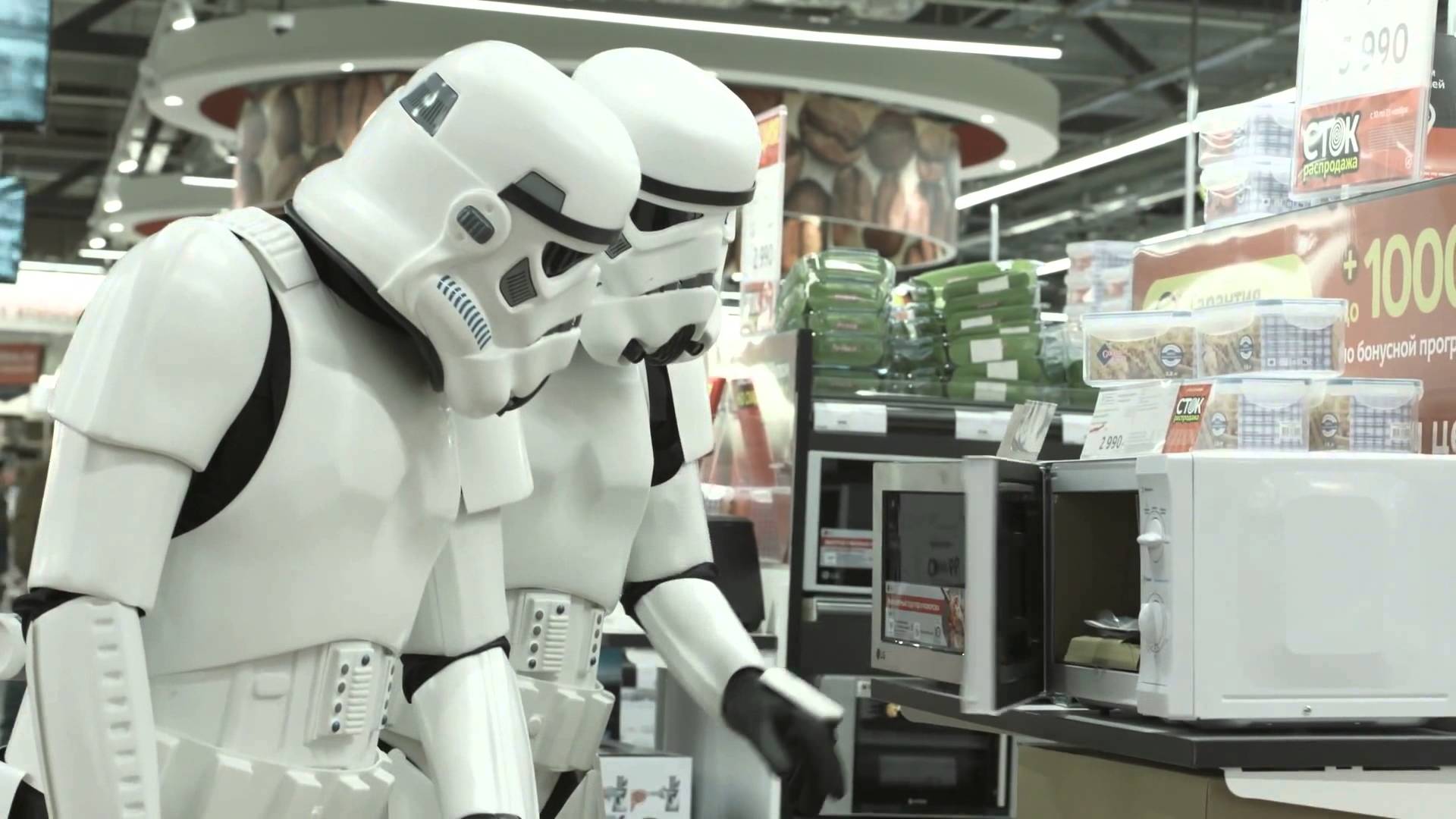 Shopping
Gotta make that merchandise revenue, right? Don't wait until August! You can purchase t-shirts and hats that offer the Star Wars: Galaxy's Edge logo, DJ Rex, and even the Millennium Falcon on them. But if you want items you won't find anywhere else, we recommend a trip to:
DROID DEPOT – Create your own R2 or BB droid and take it home. Build (or buy pre-built), program your droid and call it a new member of your family.
SAVI'S WORKSHOP – Build your own lightsaber from one of four options to choose from:"Peace Justice (modeled after Jedi from the Republic era); Power Control (a nod to the Sith); Elemental Nature (harnessing air, earth, fire, and water); and Defense (shrouded in mystery)."
DOK-ONDAR'S DEN OF ANTIQUITIES – Get your souvenirs and essentials.
FIRST ORDER CARGO – Pledge their loyalty to the First Order by purchasing caps, gear, model ships, pins, and more.
RESISTANCE SUPPLY – Or choose to support these guys!
When are you going?
Folks, this is truly a great time to be alive. Star Wars has become a larger-than-life entity and the opening of its own land will allow even more generations to come to enjoy its legacy. Because of that, the first few months are going to be insane. We as agents have our own excitement and fears because we want our clients to enjoy but also know there is going to be long waits and delays to accommodate the crowds. Ultimately, your vacation is what you make of it and we will be here to assist. But the temptation to totally immerse yourself into Galaxy's Edge, to visit the planet of Batuu, to ride the Millenium Falcon, to sample the foods and see the sights, these may be too much for us to resist. Okay, you talked us into it. We're going right away! Remember there's a great, big, beautiful tomorrow and may the force be with you!