If you are like me, you have always wondered what it would be like to be a part of the world of your favorite Disney Character. You want to know what it's like to fly like Peter Pan, work in a mine like the Seven Dwarfs, or experience sitting in the Muppet Theater. While it is impossible for even the best Disney Imagineers to create the total fantasy experiences for humans to enjoy, sometimes they come really close and design some of the greatest attractions in the world.
Welcome to Believe Vacations Top 10 where today, we'll take a look at the Top 10 Attractions that Actually Enhance the Movie/Show. For this list, we are assuming you have seen the movie or show of the particular attraction. Then, we are looking to determine if the attraction makes you feel like you are in the movie or show itself, thus, making you appreciate it even more and making you want to go back and re-watch it. So let's take off the only way we know how:
10) Dumbo the Flying Elephant/Magic Carpets of Aladdin (Magic Kingdom) – Who hasn't wanted to fly in one form or fashion before? If there was an actual flying experience, we would put Peter Pan in this spot. However, we are riding an elephant like Timothy did and a magic carpet like Aladdin rode. These attractions show that flight is a tremendous way to travel. And it makes us jealous that these modes of transportation do not exist in the human world!
Photo courtesy of Disney Parks
9) The Many Adventures of Winnie the Pooh (Magic Kingdom) – I always enjoyed the journeys of Christopher Robin and his friends in the Hundred Acre Wood. But I never knew what a "blustery day" truly felt like. And I also wondered just how "bouncy" Tigger was! And what exactly is a Heffalump? Or a Woozle for that matter! With this attraction, all those questions are answered within a few minutes. Now if they only allowed us to taste Hunny….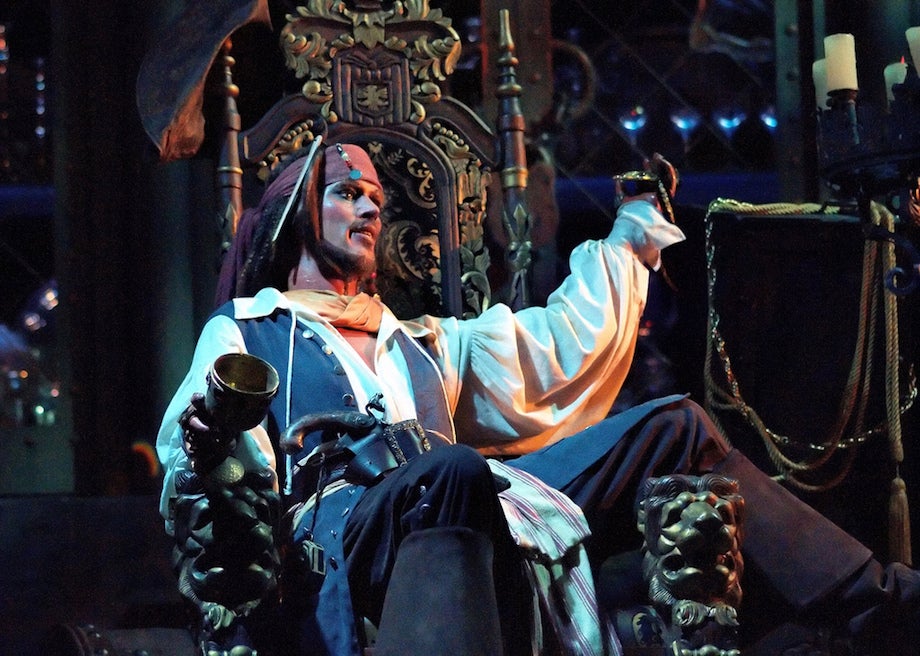 8) Pirates of the Caribbean (Magic Kingdom) – I have a unique relationship with this attraction and its movie franchise. Like most, it was because of this attraction that I was first interested in seeing the movies. And with the popularity of the movies, I wanted to ride the attraction again to see which pirates I recognized. And then, they refurbished the attraction, adding key characters in the movies which made me want to see them again and back and forth I go. Ultimately, I think this is how the attractions are supposed to enhance the movies/shows so kudos to Pirates for always being willing to adapt and make us wanting more!
Photo courtesy of Disney Parks
7) Star Tours (Hollywood Studios) – The characters, planets, props, ships and music of Star Wars is the perfect blend of thrills and excitement. If you are a huge fan of this series, you always wanted to jump to light-speed aboard the Millennium Falcon with Han Solo and Chewbacca. While you're not co-piloting with them, the next best you'll get is on board a ship while being chased by Darth Vader and various Storm Troopers. Depending on the planet you crash on, you'll want to go back and re-watch the movies to see your planet and how it played a huge role in the franchise.
Photo courtesy of Disney Parks
6) Toy Story Midway Mania (Hollywood Studios) – Did you ever want to be a toy? Or at least talk to toys when they came to life? The Toy Story franchise did a wonderful job giving comical personalities to our favorite playthings. The addition of this attraction shows us how much fun it is to be a toy. Playing carnival games in Andy's room with our toy pals is a wonderful way to compete against each other. And with Woody, Buzz and the others encouraging us to do our best, it's like I've got a friend in them!
Photo courtesy of Disney Parks
5) Tower of Terror (Hollywood Studios) – I'm going on a limb and saying most of you reading this post were not alive during the original run of the Twilight Zone TV series. In fact, if it was not for the Tower of Terror, I believe the Twilight Zone franchise would have slowly faded off into the sunset (or at least appeared in the mid to late 90s at Universal Studios). But after watching the pre-show video and riding the haunted service elevator a few times, I have found myself searching Netflix and Hulu every once in a while to binge watch the series. Because of that reason, The Tower of Terror makes us huge fans of the franchise, even if we've never seen one episode.
4) Splash Mountain (Magic Kingdom) – Portrayed during the Reconstruction Era in the South, Song of the South has quietly been eliminated from the Disney catalog for several reasons. However, this movie was the basis for one of the most popular rides in the entire world. So how does it enhance the movie? For those who have never seen it, young adults and kids may want to know who the rabbit, fox and bear are so they try to find the movie online. For those who have seen it, we instantly smile when we hear the catchy tune Zip-A-Dee-Doo-Dah and finally have the chance to have an adventure in the Briar Patch!
3) Frozen ever After (Epcot) – I'm beginning to think that Disney may have found some magic with the Frozen franchise. On one hand, it's hard to believe the movie is almost 4 years old already but on the other, can you believe the ride has been at Epcot since June of last year? For well over 365 days, fans and admirers of Frozen have been able to visit their favorite characters in their home land. Olaf is just as silly, Kristoff and Anna are still awkwardly in love and Queen Elsa? Well, she'll use her powers she discovered in the movie to send you on an incredible experience throughout Arendelle.
Photo courtesy of Disney Parks
2) It's Tough to Be a Bug! (Animal Kingdom) – I'm always a sucker for attractions that make me larger than life or "shrink" me down to a smaller size. This 3D show located inside the Tree of Life is both funny and scary. There are stink bugs that, well, use your imagination. Then there is a huge grasshopper that appears out of nowhere and it truly will make you jump. And please, let's give credit to the ending that is one of the more humorous surprises of any attraction. Immediately after seeing the show, I wanted to go home and watch the movie, A Bug's Life. All because of the over-looked 3D show inside of a tree.
Honorable Mention
Monsters Inc Laugh Floor – Children going into Monstropolis was a no-no in the movie so of course I wanted to find out what it's like on the other side of the door.
Turtle Talk with Crush – One of the coolest characters in the Disney catalog personally interacts with you and makes the Finding Nemo franchise even more cool!
Festival of the Lion King – There is nothing like watching the visuals of the savannah come to life with routines choreographed to the greatest Disney movie soundtrack of all time.
1) Enchanted Tales with Belle (Magic Kingdom) – For the second time this month, the top spot for weekly our Top 10 List ends with Enchanted Tales with Belle. And when you think about it, completely immersing yourself into the movie and playing the role of a character within the Beast's Castle is the ultimate movie enhancement. Once you are assigned a role, you will be that role for the rest of your life…or until your next visit back. You'll feel a part of the land the Beast is prince of, you'll feel like you are friends with Belle, you'll rewatch the movie and try to find your character and you'll never have a better attraction that is as perfect a compliment to its movie as this one!
Did we miss anything? Which attraction is the best compliment to a Disney movie/show? Be sure to leave us your comment below and remember, there is a great, big, beautiful tomorrow!