One June 19th, Disney will announce their travel packages rates for 2019. While 2018 still has a tremendous amount of events and new things to come, there are many reasons to be excited for the new year!
Welcome to Believe Vacations' weekly post where today, we'll take a look at the Top 10 Reasons to be Excited about Disney in 2019. For this list, we are going to look at specific categories within the overall Disney company that are going to have everyone's attention 2018. I know it's only June, but let's get excited about:
10) Annual Events and Entertainment – While the dates for specific annual events have yet to be announced, you can bet that your favorites will be back for 2019. Sure to return are the Epcot International Festival of the Arts in January, Epcot International Flower and Garden Festival in March, The Walt Disney World Marathon in January and the Star Wars Half Marathon in April.
But that's some to look forward to next year; how about events you can still get a Believe Vacations Authorized Agent to book for you in 2018:
Mickey's Not So Scary Halloween Party this fall
Epcot International Food and Wine Festival this fall
Mickey's Very Merry Christmas Party this winter.
Also, like every year, Disney will set aside certain days of the pop culture calendar and provide their own level of entertainment for your favorite celebrations like:
St. Patricks Day
Dapper Day
Cinco De Mayo
Mother's Day and More
9) Movies – If the theme park of every young jedi's dreams doesn't make Disney over a few billion dollars this year, the 2019 movies will bring in a significant amount of moolah as well.
Avengers 4th Movie – The sequel to Infinity War will be here in the Summer and be expecting a huge opening weekend.
Dumbo, Aladdin and Lion King- As members of Disney's never-ending quest to make a live-action movie of all their classics, these three are next up on the list.
Toy Story 4 – Because we need something to get people to remain excited about Toy Story Land at Hollywood Studios and not just the new Star Wars section.
Frozen 2 – Talk about capitalizing and going-back-to-the-well, Disney won't "let it go" when it comes to keeping the ball rolling on a successful franchise.
Star Wars – Episode 9 – Seriously?! Add up these seven 2019 movies and we're talking at least $3 billion in box office revenue or else I'd call it a failure. That's right, less than $3 billion is a failure?
8) Disney Streaming Service – And now, you'll be able to watch shows and movies at will. Thousands of classic movies and TV shows of all your favorites under the Disney umbrella will be streamed at a monthly cost. If the old stuff doesn't float your boat, new content will constantly be created. I'm telling you, Disney is planning to make some coin in 2019 aren't they? We haven't even gotten to the travel portion of our list either!
And now for some areas that our wonderful agents at Believe Vacations are excited about:
7) Animal Kingdom, Epcot, and Magic Kingdom – Give Epcot and Magic Kingdom another year or 3 and we'll be talking about them. But with Animal Kingdom still receiving the Pandora love, it will be all Hollywood Studios for 2019. So the reason we're excited is hopefully the reduced amount of guests visiting these three parks. Enjoy them now. It won't last forever!
Photo courtesy of Adventures by Disney
6) Adventures by Disney – Japan – Travel to the Far East in 2019 as Adventures by Disney will offer a 10-night vacation. See the rich history and cutting edge technology and fashion in the same week. See the country and tour Tokyo. Learn about the spiritual nature of the country while embracing the awesome sport of Sumo. Message us today for your quote to visit Japan in 2019.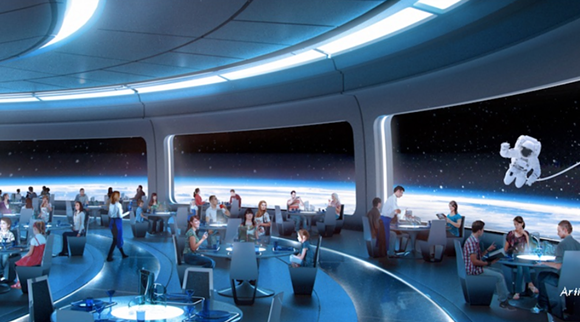 Photo courtesy of Walt Disney World
5) Restaurants – EAT! IN! SPACE!!!! I mean, how cool does that picture look? Slated to open late in 2019, this Epcot restaurant will quickly become THE most popular dining establishment on the grounds. Take off into space because you have a reservation and Uber just won't get you there in time. No menu or name yet. Just the theme and that's enough to get us pumped!
Photo courtesy of Disney Cruise Line
4) Disney Cruise Line- While there was huge news about Disney adding a few more ships, that may take all the time and energy from the Cruise Line for a few years. But our favorite ports and special days-at-sea are still going to be rocking for 2019. With departure ports in 4 states, you be sure to find a perfect length of sailing and destination with a little help from your favorite authorized Disney Travel Agents.
Photo courtesy of Walt Disney World
3) Resorts – 3 of the most popular resorts on the grounds will finish huge projects in 2019:
Caribbean Beach – The main dining areas including the food court and around the pool area will be reopened in 2019.
Pop Century – Room refurbishments (including hardwood floors) will have more of a modern look and completed this year
Coronado Springs – Construction of a 15-story, 500 room tower will be completed
Don't forget that certain resorts will have aerial gondolas traveling to Epcot and Hollywood Studios!
Photo courtesy of Disney Parks
2) Mickey and Minnie's Runaway Railway – Finally! We only had to wait until 2019 to get our first Mickey-themed, ride-through attraction! Being promoted with a new theme song and 2.5D(?!), this zany adventure will feature you watching and participating in a Mickey Mouse short. And with Goofy driving the train, nothing should be considered safe!
Photo courtesy of Walt Disney World
1) Star Wars: Galaxy's Edge – And here we go folks! There has never been a more anticipated opening for a land in history. You could argue that the build-up for this part of Hollywood Studios has more hype than Opening Day at Magic Kingdom. With this land, the most popular movie franchise in history is giving us a few attractions, numerous character meet and greets, a restaurant, a plethora of picture opportunities and who knows what other interactions with the force. And with the interactive hotel and resort opening adjacent to the land, Star Wars is here and it's no longer in a galaxy far, far away.
Did we miss anything? What's got you excited for 2019? Let us know in the comments section and as always, there's a great, big, beautiful tomorrow!