This article and video published February 2021 and information about resorts are current as of original posting date
On of the biggest decisions to make when you are staying on Disney property is "where are we going to stay?"  There are many perks to staying on the grounds at Walt Disney World including proximity and access to the parks, dining selections, amenities and extra magic.  With 25 different resorts to choose from, Disney has many options regarding price and theming for you to call "Home" during your stay.  With that in mind, we felt it was time to talk about the 3 different categories of resorts and thus, this short mini-series…
Welcome to Believe Vacations' Weekly Post where today, we begin a 3-week series looking at the different category levels for resorts at Walt Disney World.  For each article, we are coupling the answers with a fun interview video featuring me (Brian Pavlick) and one of the talented agents within the Believe Vacations family.  Today, we will look at Value Resorts and Brian has invited Kyle Holland (Houston, TX) to share his experiences.  The full interview is in the video above but highlights and answers of the more commonly asked questions are below: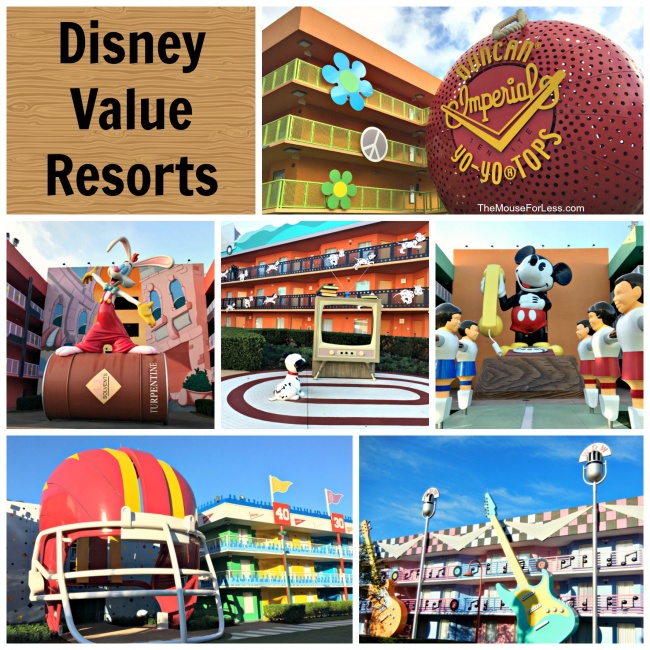 The Basics
Value Resorts are the most cost-efficient of the three categories of Disney Resorts.  They feature the All-Star Resorts, Pop Century, Art of Animation and the Campsites at Fort Wilderness.  Families of four can sleep comfortably for around $150-250 per night and most standard rooms feature a standard queen-sized bed, a pull-down queen-sized bed, a bathroom and limited living space.  The average size of these rooms is around 260 sq. ft.
Standard vs. Preferred Rooms
Value Resorts do offer room upgrades.  And depending on your type of room can determine how many extra steps you take over the span of a vacation.  Standard rooms are just as we described; preferred rooms are just as we described…except closer to the main lobby where the main bus stop is located.  For a minimal upcharge (maybe $20/night more), you can save time and steps by getting a room close to the action!
Aren't Value Resorts "Cheap?"
When you go for value, you want "less expensive" but we wouldn't go so far to say "cheap."  Where you have lower prices, you are not decreasing the amount of fun, food, free time.  If you are a park family where you want to be in the parks from sun-up to sun-down, then this may be perfect for you to simply show up, drop off your luggage, shower and sleep. If you have more than 4, we suggest you either purchase two connection standard rooms or stay in a Little Mermaid themed room or a Cars/Finding Nemo/Lion King family suite.
"Lower on Amenities and Bigger on Theming"
If you want photo opportunities for your kids and family, you'll love the sights at Value Resorts.  Where it lacks in spas, salons, and fine dining, it more than makes up for with large statues and iconic landmarks.  From Simba, Timon and Pumba walking over a log to a 40 foot Ursula, to large football helmets and Sorcerer Mickey, even to a large Yo-Yo and giant music notes, you will feel as though you truly are in the theme of the resort.  You could spend a day just walking around and taking pictures of all the iconic structures!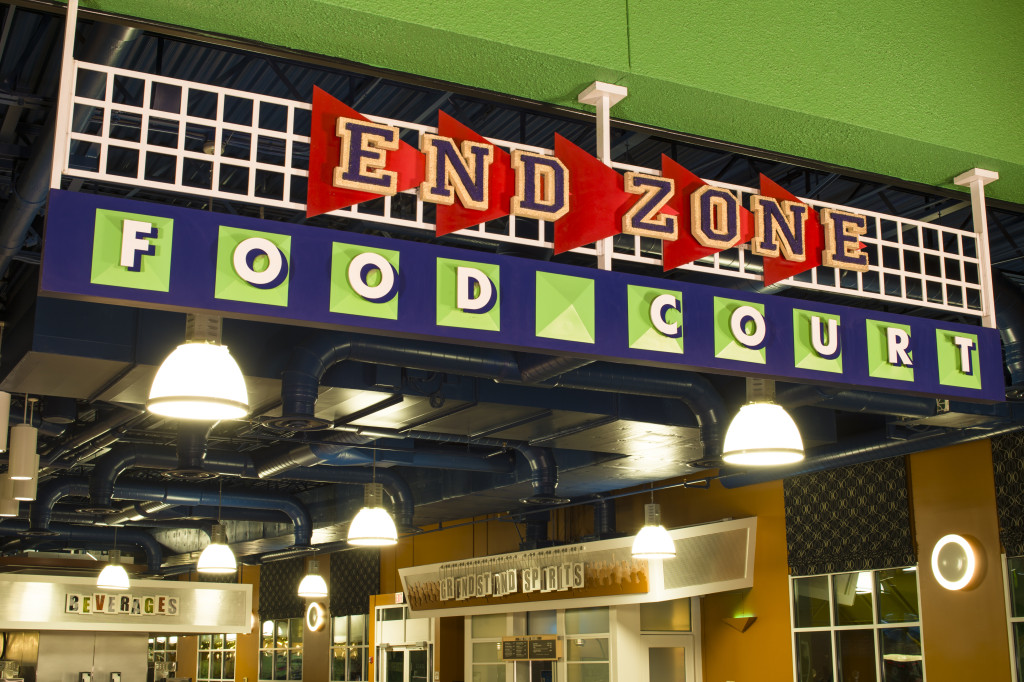 Anything good to eat?
Value resorts will not have high-end restaurants but they have amazing food courts!  It sounds "cheap" but the quick-service options include chicken fingers, hotdogs, pizzas but also health and allergy options including pastas, salads, breakfast pastries, snacks, desserts and more!  The food courts offer mobile-ordering which limits your wait time and the crowds.  Plus, who doesn't love a large pizza to go and keep in the refrigerator in your room to eat when you get the late-night munchies?!
Transportation Options
For the All-Star Resorts, you will rely on Disney's complimentary bus transportation to get to the parks and to Disney Springs.  All you need to do is locate your nearest bus stop location (typically the main bus stop is outside the main lobby), find the queue that has your destination, then wait on the bus to magically take you there.  For Art of Animation and Pop Century, you will also have the option of using the complimentary Skyliner gondola system to transport you to Hollywood Studios, EPCOT and as a by-product, to Caribbean Beach Resort, Riviera Resort and within walking distance to Beach, Boardwalk and Yacht Club Resorts.  We like to think of these two resorts as "Value Plus" with the addition of the Skyliner.
What are the fun things to do at Value Resorts?
Besides the statues, pools and arcades available at these resorts, don't discredit the importance of the gift shops.  Even the gift shops cater to the overall theme of the resort.  Need sports wear?  You'll want to check out Sport Goofy Gifts and Sundries at All-Star Sports.  For all you movie buffs, you'll want to visit Donald's Double Feature.  For many of your favorite plushes and character items, visit Ink and Paint at Art of Animation.  Plus, if you are a pin trader, you can get your resort specific pin within these shops.
How would you do a "day-off" at a Value Resort?
If you think about "days of rest," you're still doing something – Disney Springs, pools, resort hopping and not doing too much resting.  What if you took the amount you were saying due to the price of the rooms and used them for a few extra hours in the parks?  The upcharge from 5 days of tickets to 7 days of tickets is minimal.  And while 7 days in the parks sounds crazy, it may be worth it to visit your favorite parks for a few hours at a casual pace.  Then, when you return, hit up those amazingly themed pools at each Value Resort or take the family to Disney Springs or play mini golf.  When the sun sets, you'll love the movie nights on the lawn on socially-distanced blankets, watching your favorite Disney classics under the stars.
Ultimately, why a Value Resort?
Value Resort savings might cover your plane tickets, cover extra days in the park or cover a few character meals.  It really is about the value.  If you have high standards for your living arrangements, we do not recommend value resorts.  But if you truly are looking for the most cost-efficient, the resorts with the in-your-face theming, simple food options and you are looking to maximize your time in the parks, we highly recommend any value resort and know you will be a #believer!