Two weeks ago, we continued our Special Rooms Series by taking a look at the Pirate rooms at the Caribbean Beach resort.  These rooms are always considered for young seadogs and if you haven't seen the Pirates of the Caribbean movies, you may have missed out on a ton of the extra touches.  Today's room comes to us from Port Orleans Resort – Riverside, a moderate resort.  And if you've seen at least one Disney movie featuring a princess, then you'll really fall in love with these rooms.
Welcome to Believe Vacations Weekly Post where today, we'll conclude our series looking at some of the special rooms available for you to stay at during your Walt Disney World stay.  Today, we'll take a look at the Royal rooms which are located at the Port Orleans – Riverside resort.  We'll give you the highlights, the positives, the areas we think need improvement, some visuals and our best recommendations for why you would want to make that room your home for the entirety of your stay.  So get ready to have all your dreams come true…
Location
As we mentioned, the rooms are found at the Port Orleans-Riverside resort. They are located in the Oak Manor and Parterre Place buildings (90 and 95) of Magnolia Bend.  These are located on the Sassagoula River and each has an exterior entrance with a placard that indicates your room number.
Theming
Outside of the huge blue curtains, this room has lots of gold – light covers, curtains to close off room, faucets, soap dish, light fixtures, tissue box, etc.  King Midas would be proud!  You probably won't believe this, being a royal room and all, but you may see some of your favorite characters in random places in your room.  My favorite is Aladdin and Cinderella in the top border of the walls.
Furniture
These rooms have 2 queen size beds, complete with a royal duvet cover with glass slippers and designs. The headboards have lovely artwork and lights above them and if you push the button, it displays fireworks inside the painting.  The sitting chairs and table in the corner contain a note from Princess Tiana, fitting since we are in Port Orleans.  Topping off the furniture is a framed TV with a dresser.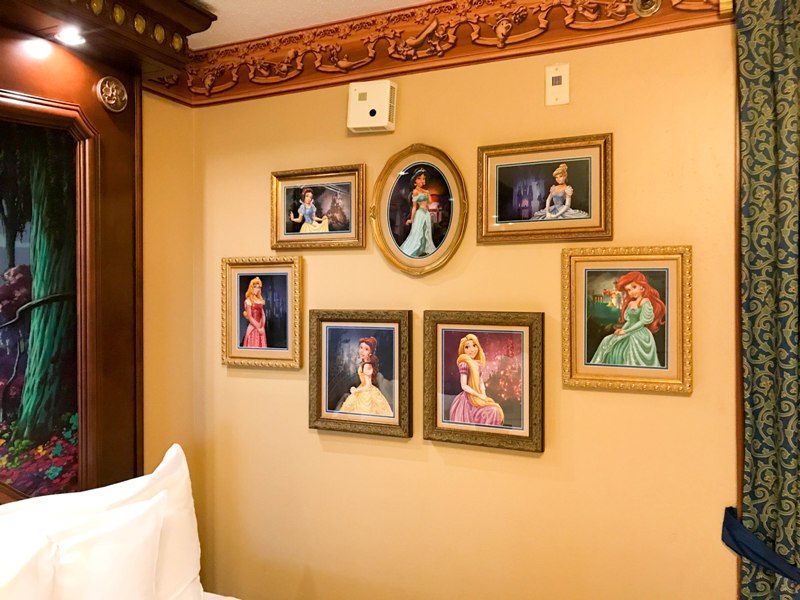 Living Area Features
There are little touches all over this room.  The carpet has a magic carpet on it, there are hidden mickeys on the inside room's fixtures, there are princess photos in frames (Ariel and Aurora for example) with prince silhouettes on sides of framed photos.  And if you needed more Disney princess pictures, there is a large picture of Tiana on a bench.
Bathroom Features
A thin curtain separates the living and bathroom areas. There is one counter with double mirrors and double sinks with magic lamp spouts!  And again, more gold.  The actual bathroom area contains a simple shower.  The shower curtain has gems, stones, dinglehoppers and more on it.  Another item with lots of hidden touches.
Final Thoughts
Well you get exactly what you thought you'd get with this room.  This truly is a royal room! From all the gold to all the princess photos on the wall to the magical headboard frames and a magic carpet on the carpet, it's such a fun room.  It's like the designers kept trying to one-up each other and find more and more items to randomly throw in but in a very classy manner.  If you are a family of 4 and the 2 children are little girls, this room is your best bet!