The minute the calendar turned to June 2021, it seemed as though Disney decided enough was enough.  Websites and Facebook groups dedicated to Disney were more abuzz than normal with rumors about reopenings, mandates ending, restrictions being lifted and more.  Everything from the future of wearing masks to reopening of restaurants and even the removal of plexiglass dividers were discussed.  And right on cue, Disney began making one announcement after another that most of these rumors were true and that getting back to "normal" for most of these operations would happen within a matter of hours, let alone days and weeks.  So here we are at the crossroads of putting pandemic changes in the rearview and the past we loved about Disney in the future.  Which means it's time for a group article…
Welcome to Believe Vacations' Weekly Article where today, we look at all the news and updates from June and ask ourselves, "Is Disney back to normal?"  For this article, our agents had a chance to chime in and answer one simple question – "What is the biggest announcement in the past few weeks that shows that Disney is getting back to normal?"  Let's get to the responses:
Masks
Brian Pavlick – Allowing you to take pictures without a mask is huge. I had so many great photos from my trip in July 2020 and January 2021 that would've been that much more magical if you could see our smiling faces. There are many special moments inside Disney properties but smiles on faces bring an extra element of magic we desperately need.
Christie Pownall – The option of wearing a mask or not—inside or outside—feels like Disney is getting back to normal! I have so many clients that have been waiting to hear this news—especially those traveling in the Summer! Wearing a mask in that Florida heat is a struggle!
Eric Turner – Being able to be indoors without masks is the biggest thing for me. I've found during my last few trips to Disney that the thing I missed most was the smells and you just can't always get it through the mask. I'm not talking just popcorn or other food, I miss the way each ride has its own unique smell like the pre-show room for Flight of Passage or Soarin'. That may seem weird but it's one of my favorite things about Disney World.
Robin Bratton -I think the mask announcement was big for me. I knew in my heart the fireworks would come especially for the 50th. But no masks in that cool Florida summer! Yes!!!!
MaryCatherine McDonald – Being able to enjoy the parks without masks allows me to see my children's bright big beautiful smiles as well as the smiles of those around us!
Kyle Holland – I'm probably most excited to be able to smile at Cast Members again, and have them hear my voice when talking to them. Being able to interact with them is one of those things I realized I took for granted, because they help make WDW so magical and masks dampened that a little bit for me
Fireworks
Whitney White – Bringing back the fireworks is the main one for me. When I think of Magic Kingdom, I think fireworks simply because it's my favorite part! I can't wait to stand around the Castle and ohhh and ahhh over the fireworks!
Jana Lovins – Fireworks being back is the normal that so many of us have been waiting for! The fact that we can gather together and enjoy the magic as one means that people will come together in the spirit of Disney.
Tiffany Bigelow – For me it is the FIREWORKS!!! It's like Disney's GRAND SLAM! It definitely means things are getting back to normal. I love the optional masks, the removal of social distancing, but fireworks means people can gather and take part of something spectacular together. I can't wait to see them in July!!! I know I will have tears in my eyes!
Annah Williams – I am beyond excited for the fireworks to come back! Happily Ever After is very special to me, so it was very different visiting the parks and not ending the night with that spectacular show. Disney has consistently been magical even throughout a pandemic, but it's heartwarming to know that more magic is coming back!
Amanda Doyle -The fireworks!!! It will now feel complete! You can now sit under the stars with your family or maybe just your significant other, and enjoy the magic that surrounds you. I'm not gonna lie, I tear up every single time I hear Happily Ever After. Just something about the song and the fireworks that lights a spark in me to keep pursuing my own dreams!
Jennifer Hummel – I was most excited about the fireworks announcement. I didn't realize how special they truly were to me until I wasn't able to experience watching them nightly. I have so many fond memories of my family experiencing magic while watching and belting out every word to Happily Ever After together. My husband and I always dance together on Main Street or behind the castle, and I'm so ready to have that magic back!
Kim Haig – I've never felt like the magic was gone, however, I am most excited about FIREWORKS and the ability to sip and stroll around the World Showcase!!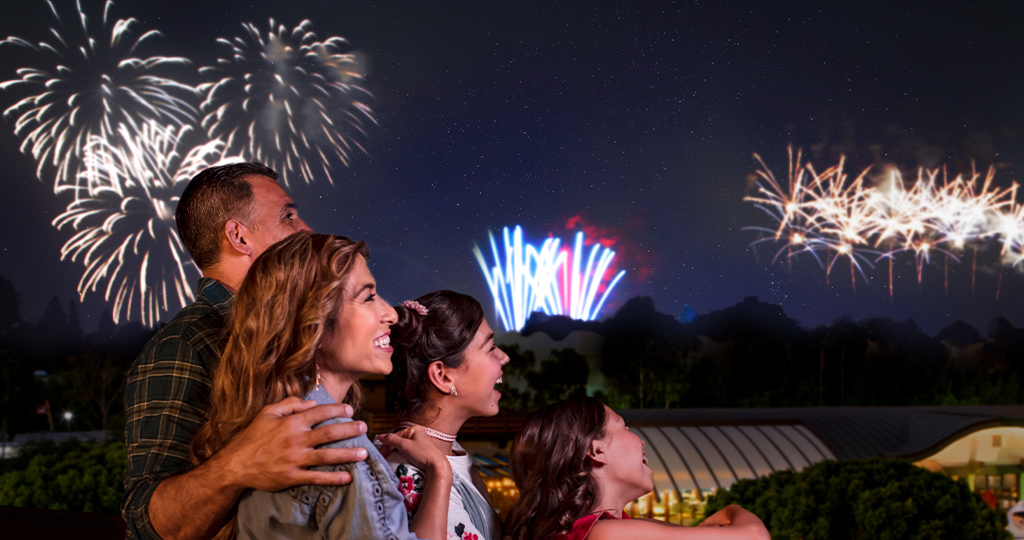 Both Masks and Fireworks
Ashley Oldham – Disney is magical all the time. As someone who went last July right after reopening, I still felt the magic. However, with fireworks coming back no more social distancing and no masks, I feel like Disney is back! I miss being able to chat it up with people on the bus or in line for attractions. I definitely missed crying at the end of a long day while listening to happily ever after and watching the fireworks. And the best is seeing the faces of everyone while they are there. Hallelujah!
Kim Gregorio -Definitely masks and fireworks it's like we are back baby!
Whitney Hubbard -Getting to stand on Main Street USA and watch Happily Ever After with everyone else is gonna be so exciting! I can't wait to see the fireworks and the see the smiles on everyone's faces while we watch together!! I went to Disney World back in January and even though the trip was still so magical, there was definitely something missing and that was the fireworks and being able to walk around and see everyone's happy faces!
Amanda Wheeling – From fireworks, to resort openings and restaurant availability. It's knowing I can smile at other guests, chat in line about our hometowns, sit and laugh in restaurants and see my kids faces as the fireworks light up the night sky.
Everything!
Taryn French – Park reservations opening up means more people can gather at the same time! Face masks down for pictures means those smiles can be documented for family history! Face masks and social distancing stickers being almost totally gone means those summer days can be spent speaking to strangers about the same magical things that brought you to this place and moment in your day! New resorts and restaurants opening again mean you get to revisit your favorite places to sleep and stay or eat and snack that just laid waiting for their turn again. All great things. Great things!
But, nothing says Disney Magic to me like the ending of a long memory making day with fireworks in the night sky! The music, the light show on the castle, Tinkerbell flying through the sky to……. Light! It! Up! Hearing the clapping and excitement of the crowd as Disney wows us with their celebratory closing ceremonies! Listening to those voices, in unison as we gasp and ahhhhhh over the same parts of the show……. It feels like your part of one giant family.
I feel absolute awe and joy during this magical experience. I'm tearing up just typing it out!!! I'm thrilled that the return of fireworks means that we can once again gather together as Americans, Earthlings, Humans and look at the same sky and cheer for the same team at that very moment! It's just the absolute best. And I cannot wait to feel all of it again in July!!!!!