In case you didn't know, Disney is not a non-profit organization.  They want to make money.  So what better way to make money when you're in the parks and at the resorts but enticing you with incredible merchandise, souvenirs and gadgets and gizmos a-plenty.  We know!  We want everything too.  But you have to understand, you can't buy it all.  Which is why we reached out to the expert for advice…
Welcome to Believe Vacations' Weekly Post where today, we we are going to talk about Shopping at Disney.  Meet Agent Amanda Doyle.  Coming to us from the booming metropolis of China Grove, NC, Amanda loves shopping in the theme parks and was kind enough to tell Brian Pavlick her thoughts on how to effectively shop at the happiest place on Earth!  The full interview is in the video above but highlights and answers of the more commonly asked questions are below:
Why is shopping at Disney so special?
It has to be the cast members.  I love to shop but there are some salespeople at traditional stores who just want to follow you.  At Disney, there is no pressure from Cast Members.  They'll get down on the floor and help you find Crocs!  They truly are a part of the shopping experience.
Do you have a certain item in mind or are you a browser?
I love browsing because I know I'm going to find something I like.  If I'm a collector of a brand (ie, Pandora, Loungefly, etc.), I may look specifically for an item in that set or series.  You can collect pins, ears and Magic Bands and each location may have different versions.  Even at the resorts, look around at the gift shops.  Each is themed like the resort itself and you can find exclusive merchandise for that specific resort.  You'll never know what you'll find unless you go in and look around.
How can I stay on a budget at shopping at Disney?
Disney has some hefty price tags and it can get crazy quickly.  We personalize budget $100 per day, including snacks.  If you are a member of Sam's Club, Target or similar locations, purchase Disney Gift Cards where you may be able to receive money back.  Use those cards to either pay for your trip or give them to yourself or to kids as their spending money for the trip.  When it's gone, it's gone!
What are the options for cashless transactions at Disney?
Staying at a Disney resort, you can link your payment card to your Magic Band. You set up a pin and simply touch your band or card to the scanner and it will charge you from there.  Many don't know that you can set up a separate pin so that you can find out who made what payments.  Or, you can set up your account so that people CAN NOT use the "tap to pay" option.  Finally, you can use Apple Pay or Google Pay or other similar options.
As of April 2021, do they offer the service where they bring it to your room for you?
In January, they did not.  At Christmas, the shoppers were out in large masses so they brought it back for a limited time.  We did not have to use it in March but they will hold it in the store until you're ready to go.  Again, ask Cast Members when in doubt.
What Theme Park has the best shopping?
Magic Kingdom!  There is a shop for every section of the park.  A close second is Hollywood Studios because I love the higher-end shops that are there.
What about EPCOT?
I will shop in France! Mouse Gear is like World of Disney and I spend some time there when I can.
What about World of Disney at Disney Springs?
There have been times, especially when I walked back in the first time after the pandemic, I teared up. I embarrassed my daughter but I was home!  The first section I go to is the home goods.  I have Disney all over my house.  Then, I go to children's clothing.  I love finding matching outfits for my younger kids.
What is your favorite piece of merchandise?
I have a large, hand-painted canvas behind my house of Mickey and friends.  It's larger than my TV!  It was gifted to us at the Art Store at Disney Springs from my sister-in-law.  That's the best one I have!
What is the Disney Cruise shopping experience like?
First, if you're not prepared for Pirate Night, you can find sweet pirate gear.  We like to shop for our kids on the cruise and pick up souvenirs.  But cruises may feature exclusive merchandise that is not released to the public at the time and everything is tax-free.  We have bought luggage and purses and other similar items.  Just be careful of purchasing food as you may not be allowed to bring them off the boat if they are not sealed and packaged properly.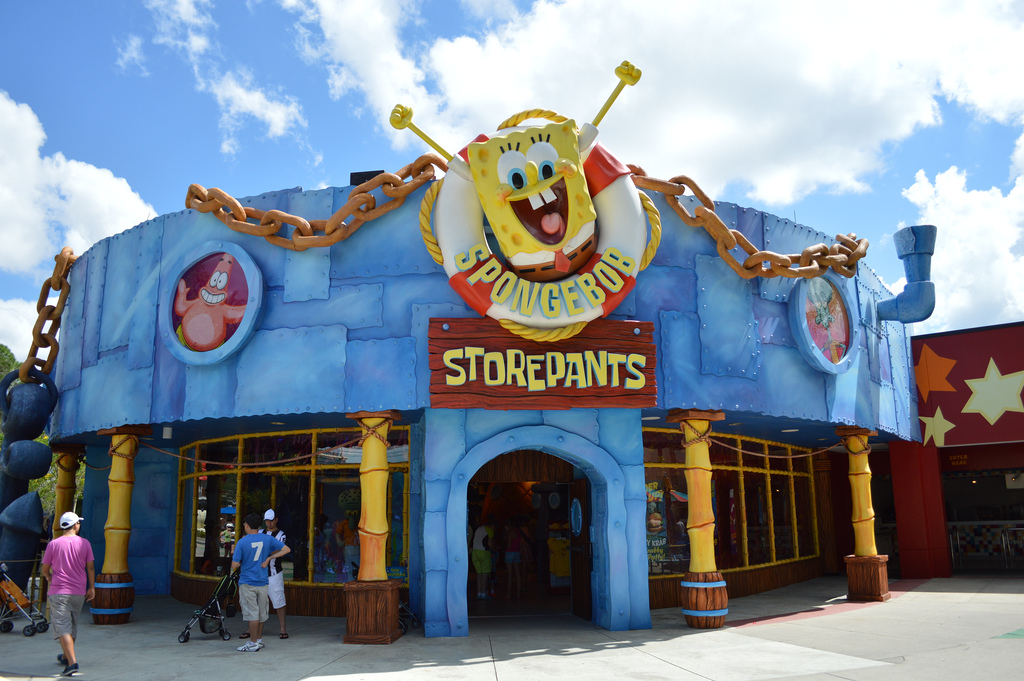 What is the shopping experience in other theme parks?
As far as products, it's very comparable.  They have a great selection of merchandise.  The difference is in the service and in the cast members.  Disney standards are almost impossible to live up to when it comes to people.  But still, go browse at the stores in other parks and you'll be happy and probably find 20 items you want!
What is your best shopping at Disney advice?
Invest in the gift cards and leave everything else in the resort.  When it's gone, it's gone!