If the first question we always receive as Believe Vacations agents is "Can you help me plan my trip?," the second one is usually "What's the cheapest price to go to Disney?"  Fair questions both.  The answers are "Yes" and "Well…let's talk about this."  It continues to amaze us that guests do not realize the investment one needs to make to go on a Disney vacation.  It's just how it is.  But that doesn't mean a trip is out of the question.  You just have to look for ways to legally save some dollars and that's what leads us to today's article/video…
Welcome to Believe Vacations' Weekly Article where today, we are going to give you some tips on how to Save Money At Disney.  Meet Doug Tatters and Austin Vahle.  Both joined us about a year ago and bring a wealth of knowledge due to their prior acceptance into the Disney College Program.  Over the years they have individually learned different ways to save money when it comes to the essentials of a Disney vacation and they were kind enough to share that advice with us.
How do you save money on food?
Doug – We've always been okay with sharing meals and now, with mobile ordering, it's easier to order kid's meals.  It's less awkward, less expensive, good-sized portions and normally 2 sides with a small drink.  If you want to space it out more during the day, you can do 2 quick-service restaurants during the day and order off the kids menu.
Austin – I'm all about the sweet junks so I encourage the smaller portions so that I can go grab the sweets.  And it's okay to split the sweets as well.  So get one Mickey Pretzel or Dole Whip and share and then you won't be wasting any either. I'm also a very picky eater so I do have my favorites and won't gamble on "new foods" while at Disney.
When is the "cheapest time" to go to Disney?
Doug – Disney has caught on slightly because even a few years ago, New Year's to beginning of Spring Break was really dead.  It's just as crowded now as you would see during the Summer but pricing during January and March is still lower.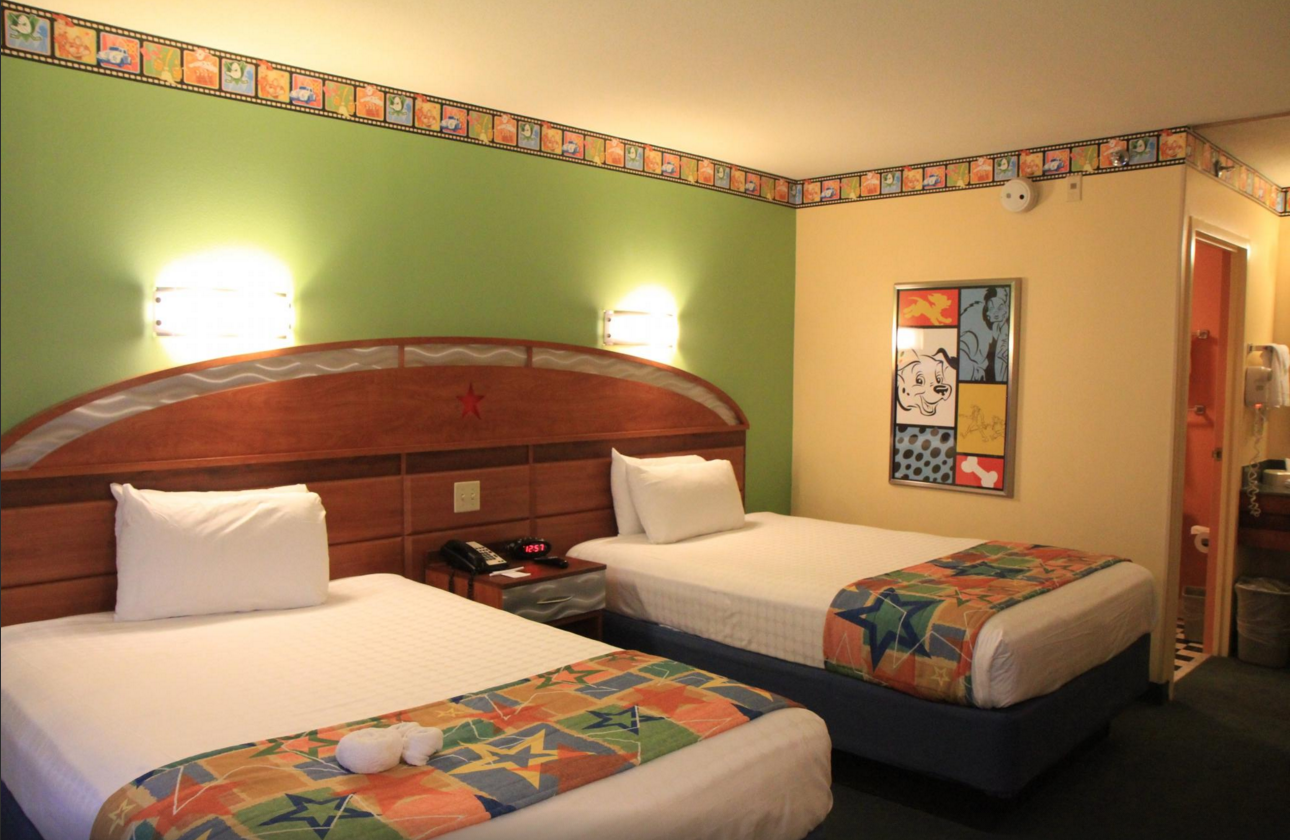 How do you save money on rooms?
Austin – This is where we save the most money.  We are trying to go to Disney as many times during the year as we can and be in the parks and enjoy the experiences more.  So the focus on the resort is not the priority.  At the end of the day, that's where the biggest price tag comes in.  Look for mid-week arrivals and departures and you'll see savings in the relative sense.
How do you save money on transportation?
Doug – I love the Skyliner. It's easy to go to EPCOT or Hollywood Studios and connects many different resorts, especially value ones.  You're getting the cheaper room and complimentary transportation and that's a huge savings.
Austin – People dread transportation because it's another line.  Skyliner feels like a ride itself and hopefully, you get to ride with your own party and have your own gondola.
How do you save money purchasing merchandise?
Austin – Always look for items that reappear in the stores.  If you continually see Loungeflys, ears, spirit jerseys, etc., look up the merchandise on ShopDisney and see where else it'll show up.  So don't just buy multiple items.  Use the app to locate where items are and make final purchases on the final day.  Set a goal – If you collect items, only purchase one item per trip.  And hit up Disney Springs too because the prices may drop even more.
Doug – If you are tempted in the stores, bring a smaller suitcase.  Pack it tightly with items to get to Disney and to get home with no real room to spare.  Tough to purchase many items if you can't get it packed for the trip home!
What can I bring from home or into the parks?
Doug – On top of bringing in food, bring in clothing.  Florida weather will change on you and there have been many situations where warm clothing doesn't work on cooler days.  Then you're having to go to the outlets or the merchandise stores and purchasing more clothes you didn't need.
Austin – Working in merchandise, we had piles of that stuff ready to go so yes, bring extra clothes and a raincoat.
What is your best money-saving tip?
Doug – My biggest tip is to plan with enough time to purchase Disney Gift cards at Target (research have you can save money with Target buying those cards) and use that as your budget.
Austin – Please budget because there is nothing more disheartening than feeling you can't do everything that everyone around you is doing.  It's doable, it's doable on a budget; it just takes a little discipline and a little magic!