It's the Christmas season and that means Santa and his elves are busy building toys for girls and boys all around the world.  But at Hollywood Studios, boys and girls of every age are busy building toys of their own.  Ever since Star Wars: Galaxy's Edge opened, guests were promised interactive experiences that brought Star Wars fans as close as they could to the world of the Sith and the Jedi.  Yes, the attractions are first-class and will be talked about for years to come, but today, we focus on two experiences that combine your creativity and your building skills…
Welcome to Believe Vacations' Weekly Post where today, we are going to talk about Savi's Workshop and the Droid Depot.  Meet Agent Erika Lucena. A relative "newbie" on this team, she is off to a fast start in our company having only joined us last Summer 2021.  She is a long-time Disney guest and but her most recent trips featured her and her daughter building droids and a lightsaber.  She was kind enough to share her thoughts on both experiences so that you can decide with your family if you are ready to tackle this incredible experiences on your next trip.
What is the overall experience like at Savi's Workshop?
The lightsaber build was one of my favorite experiences in a long time.  My daughter is a huge Star Wars fan and it was awesome to watch her.  You go to a secret Jedi cave and it's "very classified."  Compared to the droid depot, it's a more controlled, calm and chill experience. You book the experience 60 days out and you can do walk-ups but the reservation is the preferred way to get a spot.  Dedicate about an hour's worth of time for this experience as well.
How much does it cost to build a lightsaber?
$219 plus tax and you can add on features like a stand and a belt clip so prepare for this adding up closer to $250-$300 when it's all said and done.  I can not stress enought that the lightsaber is NOT a toy.  It's almost 5 feet tall and  and even carrying it in a bag, it is very heavy.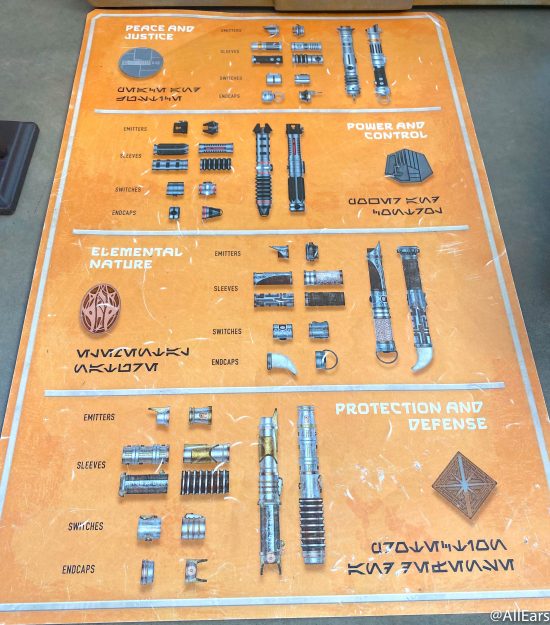 Describe how you actually build the lightsaber.
There are four different pieces and different models to choose from.  You choose from Peace and Justice, Power and Control, Elemental Nature and Protection and Defense. Once you have the overall main design, then you can choose the different assembly parts from there.
How do you get a lightsaber on a plane ride home?
I had more anxiety about this then checking my luggage!  It's just like any other carry-on luggage.  You run it through the x-ray machine and then store it in the overhead bin. Nobody batted an eye and it was super easy!  They do have shipping options just in case.
Were there more adults or kids at Savi's/Droid Depot?
My daughter was one of two children inside of Savi's Workshop.  More choose to do Droid Depot because it is more of a toy and less expensive.  Savi's still caters in an amazing way towards kids but definitely more adults enjoying the building process there.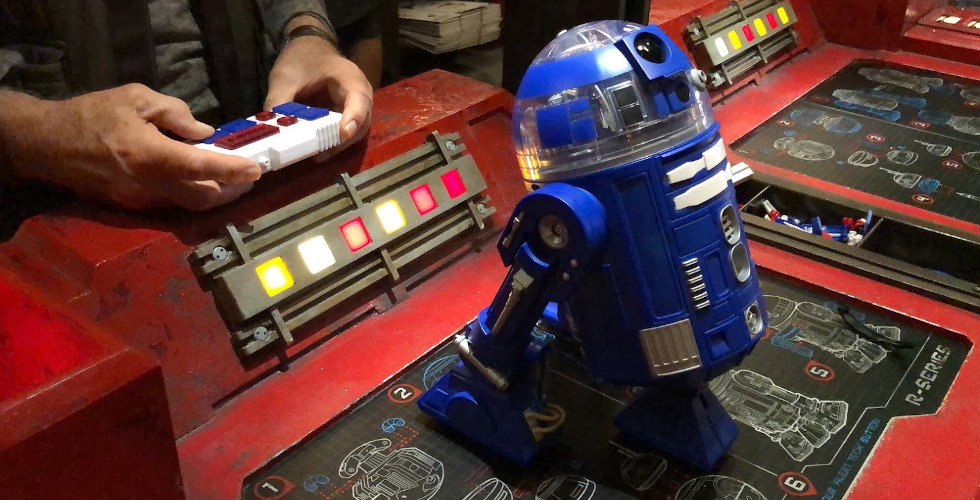 What models are available to build at Droid Depot?
Once you get in, you pick either the "R" series or the "B" series. From there, you go to the conveyor belt and pick your pieces for that particular series.  I will say that I think the "R" series has more pieces to choose from then the "B" series.  They're both great and lots of fun.
When can you book Droid Depot and what is the price?
60 days out for booking.  There are walk-up options available.  It costs $99.99 and you can take it home in a box or a bag with a personality chip for $150.  I recommend the bag and the chip so that the droids can interact with each other all throughout Galaxy's Edge!  Totally worth the money and batteries last a long time which is very important.
Do you actually play with the droid at home?
It runs around the house like a Roomba!  We did our first one before COVID so when we were at home, we had it running all around the house.  I highly recommend downloading the app which the droid will recognize and dance around to when it hears music.  It's so much fun for the kids and even the adults love it.
How many people can attend the builds?
Each one allows a builder and a bystander so two people total per reservation.  At Savi's, it's a very personal one-on-one experience with the cast member but at Droid Depot, you have the cast member helping but everyone is around building and shopping.
If I'm not a Star Wars "Nerd," would you recommend this?
Honestly, no.  For the droids, possibly because it's more fun and a toy.  Unless you understand the stories of the lightsabers and the building process, you'd find it fun but you would not appreciate it nor enjoy it as much as it's intended to be enjoyed.
Finally, what are your overall thoughts on the Galaxy's Edge experience?
I love my EPCOT and Pandora is up there as well. But with the food, drinks, interactions with the characters who make it an immersive experience and experiences like building lightsabers and droids, I have to say it is the best so far.