Disney has always had a tremendous amount of options inside and outside of its theme parks for all ages. No doubt, we all have favorite attractions whether due to nostalgia, excitement level or even coolness factors. We also have our favorite characters that we identify most with or that we believe are fun to interact with. We may even have a favorite land, restaurant, resort and mode of transportation. But in doing our EPCOT debate series, I began to look at the agent feedback regarding Entertainment options and I thought we'd focus more intently on the options at WDW.
Welcome to a new series from Believe Vacations as this week, we begin our Entertainment series by focusing on the options at the Magic Kingdom. For this article, we will provide a short blurb about some of the more popular entertainment options at the Magic Kingdom for you to consider in between attractions, as you sit and relax or for you to include into your already busy schedule. We have also researched and typed the traditional showtimes but please note – times are subject to change. So how do we let the magic begin?
Let the Magic Begin
One showing at 8:55am
Replacing the much beloved welcome show with characters riding in on the train, this Welcome Show right in front of Cinderella's Castle is the perfect start to the perfect day. See your favorite classic characters, a bevy of princess beauties and a countdown to opening the park.
Main Street Trolley Show
Shows at 9:20am, 10:15am, and 11:55am
Walking in just after park opening? You'll notice colorful costumed characters in a horse-drawn trolley singing and dancing with enthusiasm for a few minutes right down the middle of Main Street USA!
Royal Majesty Makers
Shows at 9:45am, 10:40am, 11:40am, 1:20pm, and 2:10pm
Right outside Prince Charming Carrousel, two hosts entertain and engage the audience while seeking the Hero of Fantasyland by pulling the infamous Sword in the Stone.  Fun for all ages with some adult and child participation. 
Dapper Dans
Shows at 9:05am, 9:55am, 11:05am, 1:00pm, 1:45pm, and 3:50pm
There's something about voices in perfect harmony that is cool. And the jokes aren't bad either! This colorful barbershop quarter will be pleasing to the ears, easy on the eyes and cheerful to the heart with a fun 20-minute performance on Main Street USA.
Mickey's Royal Friendship Faire
Shows at 10:30am, 11:30am, 1:00pm, 2:00pm, and 4:15pm
If you're focused too much on attractions, you'll miss an incredible 20-minute stage show right in front of the castle.  Playing three times each day, see your favorite classic characters and friends from some of the newer Disney movies sing and dance and celebrate with their new friends.
Move it! Shake It! MouskeDance It! Street Party
Shows at 11:00am, 12:30pm, and 5:45pm
Have a child who loves to dance and have a good time? Join the crowds in the circle in front of Cinderella's Castle and bust a move with your favorite characters as some of the best dance songs of all time ring out.
The Muppets Present…Great Moments in American History
Shows at 11:35am, 12:10pm, 1:05pm, 1:35pm, 2:05pm, 4:15pm, 4:50pm, and 5:20pm
If you're a fan of the Muppet style of humor, run over to the outside of the Hall of Presidents for 10 minutes and look up in the windows as the town crier and your favorite Muppets recreate different stories of our American history.  Different shows will have different lessons so make sure you check it out multiple times.  But it's just the American parts!
Casey's Corner Pianist
Shows at 12:00pm, 1:25pm, 2:35pm, 3:40pm, 4:40pm, 5:25pm, and 6:10pm
Talk about talent! Give Jim a song and if he doesn't know it, he'll play something like it. Fast or slow, Disney or Retro, this talent is exceptional and you'll be amazed how fast the fingers fly and how the ebony and ivory sounds in perfect harmony.
Main Street Philharmonic
Shows at 1:40pm, and 3:50pm
Do you enjoy marching bands? Do you enjoy Disney music? This perfect combination will entertain, have you singing along and entertained for 15 minutes right along Main Street and getting you ready or building off the excitement of the parade!
Disney Festival of Fantasy Parade
One showing at 3:00pm
Ah yes, the 3:00 o'clock parade! The big one that goes down Main Street! This latest version features floats and characters and dancers like all the others prior to it. But in this version, you'll get a rare opportunity to see some of your favorite couples like Belle and the Beast, Cinderella and Prince Charming, Anna and Elsa, and Tiana and Naveen. Featured floats feature your favorites from Tangled , The Little Mermaid, Peter Pan and Brave. But watch for the incredible fire-breathing Maleficent dragon. That's real fire folks!!! Conclude the whole thing with your favorite classic characters and you've got a great day for a parade!
Flag Retreat
One showing at 5:00pm
Talk about emotion. At 5pm every day, the flag at the front of Main Street is lowered in a very respectful and patriotic way. With the Dapper Dans providing our favorite anthems, the flag is folded and presented to an active or retired member of the armed forces. As a final treat this special guest leads a small parade up Main Street, taking in much deserved applause and gratitude. Just an incredible experience.
Hoedown Happening
Shows at 5:10pm, 6:00pm, and 6:45pm
Got 10 minutes to let loose some energy?  What starts as a random few people cuttin a rug turns into a full scale dance party!  Located in the heart of Frontierland, join some western Cast Members and the rare characters from Song of the South and Country Bear Jamboree.  Perfect for little kids and eclectic groups!
Happily Ever After
One showing at 9:00pm
For 13 years, the much beloved Cinderella's Castle projection and firework show Wishes was a sentimental way to close the most magical day ever. Now we have Happily Ever After and wow, what a show! It has everything to make it an all-timer of a show – exclusive soundtrack, high definition graphics and projections, fireworks, classic tunes and characters, all built into themes of friendship, love, evil villains, and making dreams come true.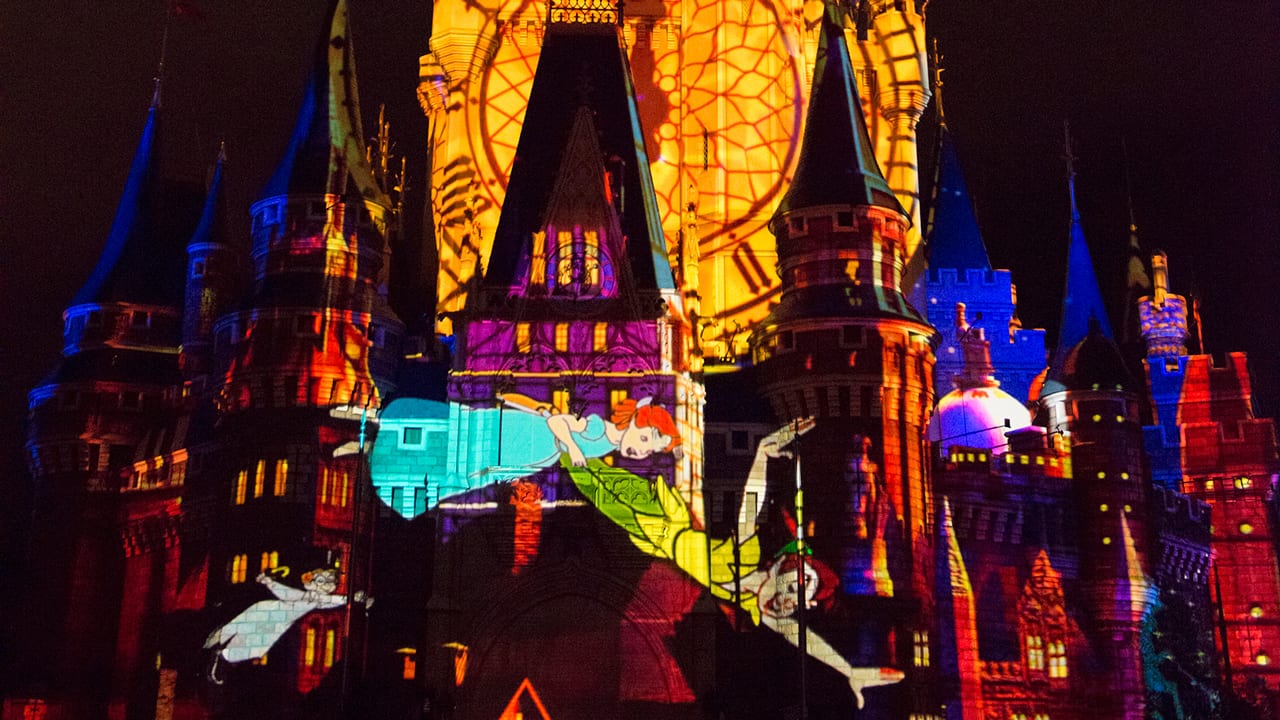 Once Upon a Time
One showing at 9:45pm
Why not another end of the day show at the Castle? And what better way to start our final story of the day than with Once Upon a Time? Tremendous projections up against Cinderella's Castle, what it lacks in fireworks, it makes up in songs you can sing along to. So maybe THIS is the perfect ending to the perfect day.
Kiss Goodnight
Actually, this is the REAL perfect ending to the perfect day.  As the park closes, the familiar notes of "When You Wish Upon a Star" plays, the castle goes through a few more color changes, we are thanked for visiting the Magic Kingdom and we'll see ya real soon!