Many times when you talk to a Believe Vacations agent, we will say Disney and just assume everyone means Walt Disney World in Florida.  You'll have to excuse of because it's the property we are most familiar with, have the most client interest in, and the term is still more appealing (at least for now) to also include our Universal/Islands of Adventures services.  Of course, WDW wasn't the first Disney property.  That honor goes to Disneyland, circa 1955.  So it's time to give the OG some credit and showcase why we should never overlook our West Coast options…
Welcome to Believe Vacations' Weekly Post where today, we're going to take a look at the Disneyland Difference and discover what is unique and what is the same when we compare both Disney properties on both coasts.  We welcome back Agent Kim Gregorio.  Kim was born in Florida, went to Florida State and have lived in Florida her entire life but just recently, she had her very first trip to Disneyland and California Adventure.  She was kind enough to keep us in mind during her vacation and came back ready to answer those difficult questions.
Why did you decide to go to Disneyland? And when did you go?
I have always wanted to go and when the Believe Vacations Team decided to have the annual trip there, I jumped at the opportunity. I went middle of January, right after doing the RunDisney races the weekend before. I actually did "Castle to Castle!"
The travel methods at Walt Disney World are well documented. What are the travel methods you used to arrive at Disneyland resorts like a plane a shuttle, Uber etc.?
I came from south FL and stopped in Dallas to pick up some other Believe agents. I took a plane and flew into John Wayne/Orange County airport. I chose this airport as it was the closest to Disneyland and smaller than LAX. Once at the airport we took an Uber to the Disneyland Hotel. It was super easy and seamless and that's coming from someone who did this trip on a knee scooter. Uber came and got us and 20 minutes later and $40 out of pocket, we arrived at the resort.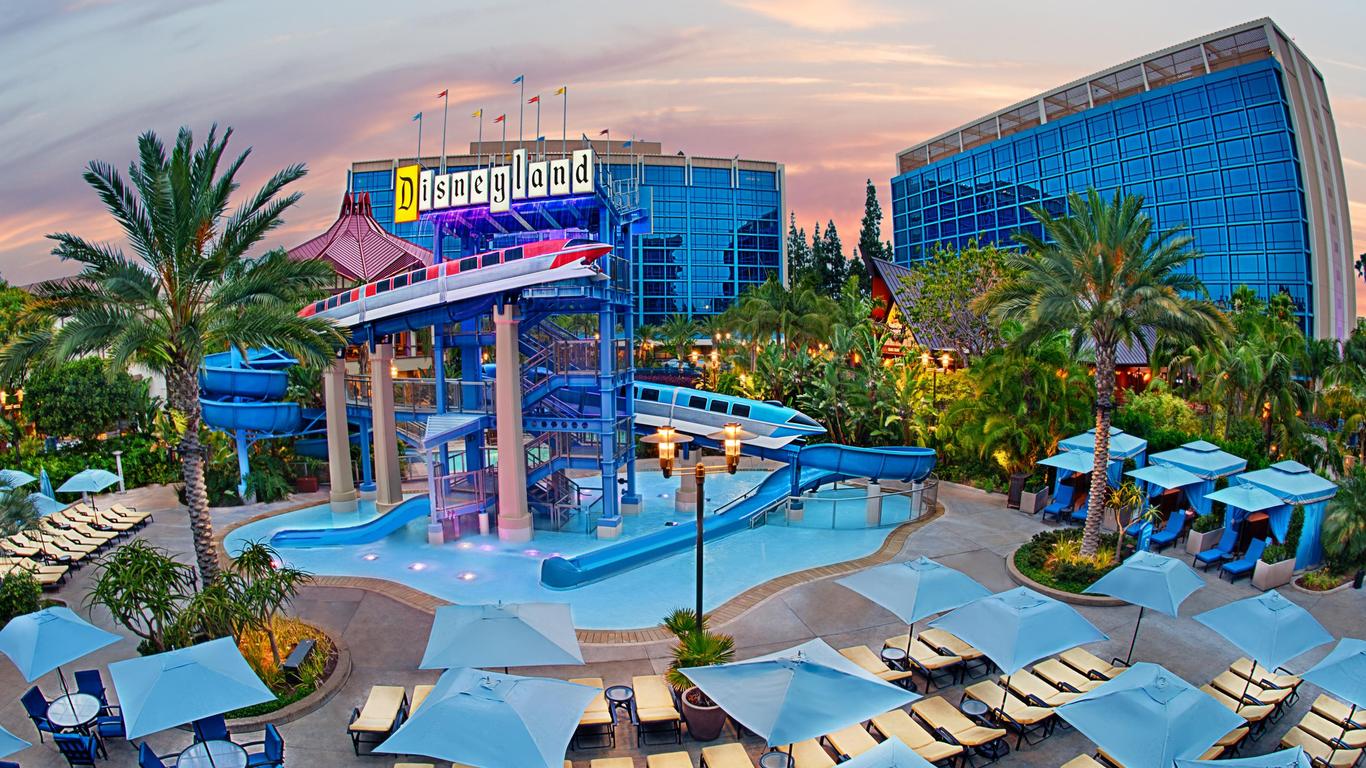 Where did you stay and what Walt Disney World resort would you compare it to?
We stayed at the Disneyland Hotel. When I look at the 3 options, let's call this the "Moderate" of the three. I probably would compare it to the Contemporary. The rooms were spacious and clean and very close to Downtown Disney. You can walk to the parks and to the other resorts as well. Convenience was amazing!
Are there any special amenities that the hotel has like a pool a spa or special restaurant?
It was pretty cold when we were there, but we did walk around a bit. The pool had an awesome slide that looked like the Monorail which had to be so much fun. Disneyland hotel also had a Trader Sam's which is always a fun experience for food and drinks. The difference between the spacing of the resorts in California and in Florida is very different. Whereas WDW is more spread out, these hotels and parks are there and then this large city called Anaheim just completely surrounds it!

What immediately stood out to you for better or for worse that was different from Walt Disney World parks?
I will say I was disappointed at how small Sleeping Beauty's Castle was. I was just at Cinderella's Castle 6 days ago and I get into Disneyland and, don't get me wrong, it's beautiful, but….it's just small, after all! I loved the walkability of the 2 parks and proximity to Downtown Disney and the hotel. I did enjoy comparing rides. Security happens at Downtown Disney and then you can go into the parks. No separate security for each park. That includes park hopping. So that was a nice time saver.
Which has the better version – Disneyland or Walt Disney World?
it's a small world – Disneyland is better than Disney World due to the façade and sneaking characters into the different lands like Stitch in the Pacific Islands and Donald in Mexico.
Guardians of the Galaxy or Tower of Terror – I love Tower of Terror but Guardians of the Galaxy gets you some air and there's so much more to it.
Peter Pan – It's better at Disneyworld. Even with some of the newer scenes at Disneyland, the nostalgia stays with that one.
Pirates of the Caribbean – Much better at Disneyland!
Characters – Disneyland had way more characters out for meet and greets than I have ever seen at Disney World. And they were the obscure characters you never get a chance to see like Oswald the Rabbit, Geppetto and more.
Attraction access for disabilities – Disneyland is not as handicap accessible as Disneyworld. Many of the rides had to be accessed through the exit. The DAS pass worked differently between Disneyland and California Adventure Park (more like WDW) because of this.
Overall navigation – Disneyland was easy to navigate but I did fee like the entrances to various lands were not as pronounced as they are at Disney World.

Between California Adventure or Disneyland which one did you prefer?
This is tough because I'm a sap. I loved some of the nostalgic rides at Disneyland like Mr. Toad's Wild Ride, but I think California Adventure Park was my favorite. I couldn't compare anything there to what we have in Florida. Florida needs Cars Land and the IncrediCoaster.
What at Walt Disney World did you miss when visiting California?
The Snack carts were not as plentiful as they are at Disney World. The popcorn buckets are not refillable. They have more churros for sure and still have pretzels and our favorites but no carts! Can you tell snacks are important to me?! And of course, I was very happy to report back that food allergies were treated with the same respect in California as they are in Florida.
What were some of the restaurants you went to in California?
Napa Rose – Really good food and really pricey, but our waiter was amazing and recommended great wine.
Plaza Inn Breakfast – Characters did a parade but seemed to rush by in a hurry.  It was more self service than other character meals I have attended and we used plastic cutlery which I found odd.
Storytellers Café – This was more like Chef Mickey's to me. The characters did several parades but they did not stop at each table.
Wine Country Trattoria – Probably one of the better meals I have ever had in a Disney Park. Really good Italian and house wine.
Lamp Light Lounge – We had an amazing table on the water with the Incredicoaster and Ferris wheel in the background. It didn't get much better than that.
PYM Test Kitchen – What a great quick service place. The food was fantastic, and you got to watch the Avenger shows while eating on the patio
What is the one thing anyone would enjoy about Disneyland?
There is the nostalgia about where Walt walked and worked. There is so much the same but so much different. Three days wasn't enough for two parks. If you love Disney or even want a taste of it and you live on the west coast, please do it. I'm already looking to book the entire family going in the near future!